Wilson's Weekly Wrap
Not much of a union
|
Send to friend
May 26 2010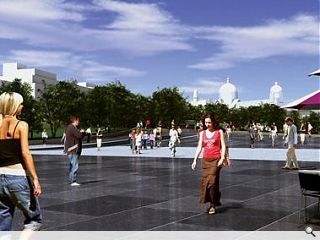 Some subjects just run away with themselves, so much so that they really deserve their very own blog to effectively communicate the many facets of the fast-changing environment in which they exist. One such is Aberdeen's Union Terrace Gardens, a long-term object of fascination for the Wrap or, to be more specific, Sir Ian Wood's proposal to put up £50m of his own money to eviscerate this part of Furryboot Central. In the run-up to a Council vote on the matter last week - and indeed in the aftermath of this democracy-lite event - all sorts of remarkable developments occurred (in the true sense of the word 'remarkable') which, in combination, make you wonder if Sir Ian and his business chums together with the Granite City's ever-compliant Council are on the same planet as the rest of us. In order to keep track of the story I've decided to break it down into bite-size segments for you to absorb at your leisure, but please stop now if you're easily shocked.
Malice aforethought
The lead up to the Council vote on Sir Ian's plans was obviously hotting up but the news report on the very day it was to take place smacked a tad of desperation. From left of field came another idea to thwart Peacock Visual Arts increasingly impressive campaign to save its own project for the site. It was portrayed as "Stewart Milne, the Aberdeen FC chairman and head of one of Scotland's largest construction companies has made an 11th hour bid to defuse the incendiary row over the future of Union Terrace Gardens." Stewart's "third way" solution to the controversy was, in fact not his but that of ACSEF who had approached the tycoon with the idea of the Peacock being included in the redevelopment of the Triple Kirks, the Archibald Simpson-designed church complex that overlooks the gardens and which has lain derelict for more than 30 years.
Tom Smith, chair of ACSEF insisted that "the best solution for all, we believe is an iconic contemporary arts centre within the City Square project but if that is not acceptable to the `Peacock then the Triple Kirks site could provide an attractive alternative for them. It is within the city's cultural quarter and, with the Stewart Milne Group leading the redevelopment could be cost-effective for them and their public funders." Such consummate dissembling would be admirable were it not for a few stark facts that Tom was surely more than aware of: first, that the Peacock had previously looked at the site and found it would cost an unaffordable £35m to achieve its plans there; second the fact that the Peacock's funds are indeed public so would presumably require the project to be tendered for, and not therefore be straightforwardly available for beneficent use by Stewart Milne; and third, that the said public money was for the Peacock's project for Union Terrace Gardens and not for one on another site. And to top these shameless canards, the implication that the Peacock was being obstructive and that really there was a wonderful opportunity for it within Sir Ian's plans.
Sir Ian gets the vote – who'd have thought?
And so to the vote itself. The debate occupied all of the day in the Council chambers, but when push came to shove, an opposition Labour motion to press ahead with the Peacock scheme at the expense of Sir Ian's plans was defeated on the casting vote of Lord Provost Peter Stephen. Crucially, three councillors – two Labour and one Lib Dem who were members of the Peacock board – were excluded from the 14-14 split vote because of rules on impartiality, a code of conduct that didn't seem to affect the leader of the Council, John Stewart, who also sits on the ACSEF Board. So, with that out of the way, the real vote could proceed and with a result of 20-7, Aberdonistan's good and true showed how low they could bend for Sir Ian and his money. Sir Ian of course quickly showed himself as a gentleman Don by praising the councillors for taking what he described as a far-sighted and very difficult decision."
Interestingly, he went on to say that "the polarisation on this very important issue has not been healthy for our city and now that a positive (sic) decision has been taken every effort must be made to take account of the various concerns expressed and ensure that the project proceeds in a way that will have the optimum benefit and impact and benefit for the citizens of Aberdeen. It should be perfectly reasonable now that this decision has been taken to try to have an acceptable joint project in which the contemporary arts centre and wider cultural interests are a part."
To which one can only respond, "yeah, right" because (a) there wasn't any polarisation of opinion until Sir Ian elbowed his way onto the scene; (b) any notion of compromise and new acceptance of the views of others is contradicted by the fact that the Peacock has now effectively had to throw in the towel and indeed may now be forced to cease trading. Elly Rothnie, the articulate project director for the Peacock's plans, has also now lost her job as a result of the emergency meeting held by the arts organisation's board to examine its future. It looks like 35 years of Aberdonian cultural endeavour down the Swannee. Truly a triumph, Sir Ian, and one the Wrap predicted you'd achieve right at the beginning of this fiasco.
Context, but not as we know it
After all this, I still managed to be surprised to hear Neil Baxter, Secretary and Treasurer of the RIAS, on the radio lamenting the fact that Scottish Enterprise's gung-ho Grampianettes had approached the organisation about Sir Ian's notion to hold an international architectural competition to legitimise his plan but who had made very clear they didn't want a Scottish architect to win. You don't have to be a rocket scientist to anticipate Neil's response (unacceptable) but he almost certainly pushed the RIAS into eternal Aberdonistan purgatory by publicly pointing out how illusory the project's supposed cost of £150m was.
We all know that if the project goes ahead it will be because upwards of £500m or your money and mine will have been misdirected towards it by our political masters, but this wasn't the aspect that the chief Grampianette chose to respond to, oh no – Scottish Enterprise's Regional Director Maggie McGinley defended her officer Nicola Moore's comments by saying that "the conversation regarding an international architect has been taken completely out of context. There is global interest (sic) from architects and engineering firms, so any design competition we (?) launch will encourage ideas from architects across the globe – which most definitely includes Scottish and UK architects." Which of course does not mean that any of the latter will be allowed to win. I don't know how Nicola explained herself to Maggie to get herself out of SE's internal soup, but I do wonder how its possible for "we don't want some wee Jimmy from round the corner in Aberdeen winning this" to be taken out of context.
Stand and be counted
Given that this episode has been the first time in years that the RIAS has actually taken a clear political position on anything it could only keep going and, following an excellent presentation at its Convention by Edgar Gonzalez, architect for Peacock Visual Arts, a quick petition of those present produced almost a full house of signatures of support from architects present. Except of course for those working for government and local authorities who needed to remain apolitical. Oh, and RIBA President Ruth Reed who didn't feel she could take a position in support of one of her members or of an RIBA regional grouping. Pathetic, Ruth, but I have to say wholly characteristic of the RIBA these days. If only the RIBA Council was also to come out against SE Grampian's competition plans – that would be something, so over to you Ruth – and to those architects in Scotland who maintain dual RIAS/RIBA membership – petition your President to get onside. Such a move might even impact on the architectural press. Last week's 'Boots' column in BD managed to report the petition in its usual supercilious metropolitan way, so come on guys, what about actually standing up for architectural excellence for once, even if it is outside of London?
Academic independence
Where stands the Scott Sutherland School of Architecture - the Robert Gordon University's very own hothouse of design talent - in all this? Well, designs by three of its post M.Arch. students for Union Terrace Gardens – still described as a square on the ACSEF website even though the organisation is now furiously trying to shift its publicity towards the idea that Sir Ian's project will be more publicly acceptable if described as a park – figure prominently on its home page. But comments from the leadership and staff of the School have been noticeable for their absence. Why should this be, you might ask, for only Stuart McDonald, former director of the Lighthouse and emeritus professor at Grays Art School (also a part of the Robert Gordon University) has been publicly and commendably voluble in opposition to Sir Ian's scheme. But then, an emeritus position is honorary and unlikely to be affected by strictures from on high. Oh, didn't I say? Sir Ian Wood is Chancellor of the Robert Gordon University.
And finally…
I've no idea how much money has been expended by Sir Ian and his ACSEF chums so far – its certainly a lot - but you have to wonder if any of it has produced the effect intended. The theory that it is all about creating a post-oil industry world centre of energy would, you might think, stimulate positive international interest – and you have to assume, spectacular new investment opportunities in Aberdonistan. Sadly not, and even Sir Ian's anticipated upbeat profile for the city seems still to be some way off because some cheeky protesters, demonstrating the kind of entrepreneurial spirit Sir Ian extols, have put the bankrupt city up for sale on E-Bay. The item description reads: "this is your chance to buy the once glorious city of Aberdeen. We've already sold off our integrity, reputation, culture, green space and the democratic process, now you can buy the rest." By Saturday last 39 bids had been lodged with the largest offering £1260 for the city. Remarkable, really, how much negative publicity a truly bad idea can generate and you have to wonder whether any project on the Union Terrace Gardens site can now retrieve the damage done by Sir Ian's ill-thought out plans.
Back to May 2010