Coleman & Co make short work of Ibrox tower
|
Send to friend
May 25 2010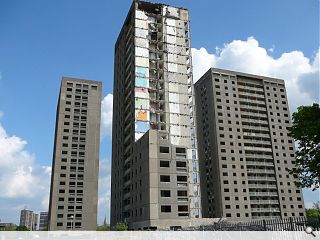 Coleman & Co are making short work of three 21 storey housing towers at Ibrox thanks to the services of the UK's largest demolition machine.
The long armed claw has been devouring concrete at a ravenous pace and has now gnawed its way through part of the elevation of one of the Broomloan Court blocks.
Plans for a wider regeneration of the surrounding area are on hold after Rangers Football Club admitted their plans did not stack up financially in the current climate.
Work is expected to continue on site for the next six weeks.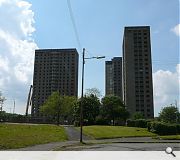 Even on an unseasonably warm and sunny day the mass of grey is overpowering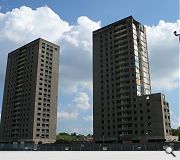 This Ibrox trio will soon be a duo... then an uno, then none
Back to May 2010