Wilson's Weekly Wrap
Doing the Multrees Walk
|
Send to friend
May 26 2010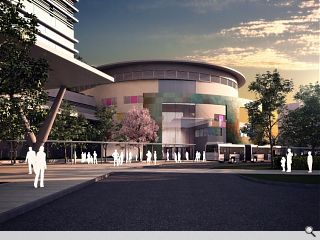 Following my recent reference to the business ethics of international architectural practice, Broadway Malyan, and the rather less than total loss to the profession its departure from Edinburgh represents, I note that a lone supporter of the outfit has posted a note on the Wrap to the effect that the closure of its office indicates how the recession is impacting on Edinburgh and that this should be a concern to us all. Indeed it is, but I would take a bit more heed of my anonymous correspondent's (hereafter to be referred to as MAC) remonstrations were it not for the fact that the same report elicited yet more e-mails direct to me with eye-watering details of Broadway Malyan's colonial approach to job-getting north of the border. I do however absolutely agree with this architect's comment (for that is how he/she represents him/herself) that members of the profession should be supporting each other at this difficult time - it's just a shame that Broadway Malyan (whom I presume to be MAC's erstwhile employer) never showed such commendable communal professional spirit during its relatively brief sojourn in Scotland.
One comment tickled me though – the idea that my comments were "considerably lacking in fact" and I can only presume that MAC was referring to my suggestion that staff in Edinburgh had been found jobs in some of the practice's other offices. Clearly I got this wildly wrong – despite the fact that the information came from BM's own pronouncements – nope, in its "last helicopter out of Saigon" approach to office closure, it appears some sizeable projects were quickly offloaded to members of its former team to establish new – and I suspect – hugely under-resourced practices upon. Sadly, a redundancy deferred still turns out to be an unemployed architect but – hey – the big boys' hands are clean.
Sadder still is the collateral damage – the City of Edinburgh Council, previously one of Broadway Malyan's very best friends in Scotland, decided plans developed in conjunction with local practice Morgan McDonnell for a £100m scheme for 712 flats in Portobello to be a no-no. Councillors turned against their own planners' recommendation to grant permission because "they were worried about the number of flats proposed." Eh? At a time when no housing whatsoever is being built on Edinburgh's waterfront and with a Council desperate to re-stimulate development there? You certainly have to wonder at the true background to this decision – the size of the scheme can't have come as a total surprise to the politicians after all – and to feel for Morgan McDonnell, now left high and project dry by what seems to have been a very distinct cooling in BM's relationship with the City Chambers' dippy denizens.
A Nightingale clings
Some months ago an AJ journalist rang me to ask what I thought about Tribal, a major organisation that carries out humongous amounts of public sector work, seeking to sell its architecture, resourcing and communications divisions. The question to me was naturally about the first of these or, more particularly, architects Nightingale, as the firm no longer appeared to fit into Tribal's bigger business plan. The journalist seemed surprised at my scepticism that anyone would buy the healthcare specialists – she quoted Nightingale's success as part of the consortium that secured the £840m Southern General Hospital in Glasgow – but I pointed out that if Tribal could no longer see a decent profit in the company why would anyone else?
Tribal bought Nightingale for £9m in 2002 and has had ample time to absorb it into its organisation and identify all of the synergies and cost savings available as a result. The current downturn has not only hugely reduced any remaining benefits from this arrangement, but has similarly diminished the ability of any other architectural organisation to come up with the kind of dosh required to buy the outfit out. And sure enough, the latest news on this front is that Tribal has yet to find a purchaser but, if and when it does, the new owners will surely want to squeeze as much out of existing Nightingale contracts as they can. It was always a doubtful decision to select Nightingale and its contractor chums Brookfield for Glasgow's Southern General Hospital – the company's price depended upon the project drawings being produced by cheaper labour in South Africa, after all, with no benefit whatsoever to the profession or the wider economy here in Scotland – all of which makes the ongoing cost of the project a story the Wrap will no doubt find itself returning to in due course.
Hyatt'll be right
But back for a moment to Auld Reekie, where the capital's Council has been slightly stymied in its plan to turn every available building into a hotel. Recently released data from the Council's Market Street Lubyanka shows a record number of hotels won planning consent in 2009 and that the city now has a development "pipeline" of 3823 new hotel rooms that takes things substantially towards its target figure of 4000 by 2015. Naturally all the operators want to be in the Old or the New Town and ideally with a view of the castle. Which makes Argyle House in Lady Lawson Street a perfect opportunity, providing an operator willing to take on the challenges of its brutalist concrete structure can be found.
This time though the Council is pitching high – it wants a Hyatt in the city and it doesn't care whether it's a Park Hyatt, a Grand Hyatt or a Hyatt Regency. At this level, absolutely anything is up for grabs and, after its disgraceful decision to allow the Old Royal High School on Regents Road to be turned into a boutique 'arts' hotel, it can only be a relief that the city's responsibilities don't include the Castle or Holyrood Palace or they'd be goners too for sure.
Which puts the Scottish Government's decision to reject developer Duddingston House Properties' scheme to transform the former Odeon cinema in South Clerk Street into a boutique hotel into some context. Duddingston is of course the Council's preferred developer for the Old Royal High School so you might imagine the consternation in the City Chambers at the view of enquiry reporter Michael Culshaw that the B-listed 1930s building had a unique auditorium that was capable of repair. Planning committee chair Jim Lowrie didn't quite see it the same way, commenting that it would "inevitably lead to the building lying derelict for the foreseeable future" which, although a bit of a truism, isn't exactly indicative of a mind open to alternative solutions. Thankfully Duddingston's chief executive – architect Bruce Hare – came across more pragmatically, saying, "we are going to take time to have a good look at the report then sit down with the council and others to try to find a solution for the building."
Not that there will be too many options available – Historic Scotland is considering raising the building's listing to A status and whilst there are many out there who wish to see it given some kind of theatre use, none has so far come forward with a business plan that is even remotely viable. That said, the idea of a hotel now appears to be dead in the water and Bruce Hare must now surely be wondering whether several more years will be consumed in reaching the same result with the Old Royal High School. And again, there are many out there who will be hoping exactly that. In stark contrast, up in Aberfeldy, work proceeds to return its dilapidated 1930s cinema to its original purpose. Architect Robin Baker's scheme for it has got a way to go, for sure, but where there's a will, as they say.
Winning isn't everything, but losing isn't anything
So, the list of this year's RIBA Awards regional winners has been announced and contains, as far as Scotland is concerned, few surprises (if you discount the RIBAs continuing perception of the country as one of its regions). In fact, practically no surprises at all since the projects on it, with a couple of additions, are virtually the same ones that formed the shortlist for RIAS Andrew Doolan Prize last November. Now I appreciate that we're going through some difficult times in the world of construction, but the idea that these are the only recent projects in Scotland deserving of an award is patently ludicrous, particularly since one or two of them seem to have been around for a while now. Don't get me wrong – the projects all deserve recognition, but the stature of the profession is hardly going to be lifted in the minds of the wider public as long as we have this kind of duplication.
The problem is threefold – the criteria for submitting an application, the entry process and the judging process itself. Am I alone in thinking that having put the material together for one award scheme it is fairly simple – presuming you can still afford the sometimes exorbitant submission fees and subsequent awards dinner – to slap the panels in for consideration for another? In the case of the RIAS Andrew Doolan Prize and the RIBA Awards, we not only find that most of the projects are the same, but so are some of the judges. Whilst this pretty much ensures confirmation of their first decision, it can hardly be seen as genuinely objective, especially as the judging processes themselves rarely offer feedback on their deliberations. And let's face it – from an applicant's point of view, if you haven't won Scotland's premier award, you can avoid forever being seen as a runner-up by not only ensuring your project does at least carry off an RIBA regional prize but also still have the dangling chimera of possible selection for the Stirling Prize shortlist.
All of this nonsense only further convinces me that the only prize worth having is a new commission. Were this to be the case, not only would far more projects be submitted for consideration, but the standard of them would surely improve year-on-year if the carrot was a serious project opportunity. The RIAS Andrew Doolan Prize is co-sponsored by the Scottish Government so there is every reason to raise the game here by attaching the award to a new public commission. Sure, the economic climate at the moment isn't too great for this, but it won't always be so and a saving grace of the current administration at Holyrood is that because of its opposition to PFI/PPP as an acceptable procurement route it absolutely needs to show a new route to better quality before the next election. Moving the goalposts in this way would establish clear blue water between the RIAS Andrew Doolan Prize and the RIBA Awards, so will the RIAS and the Scottish Government's chief architect get together to move things forward and even – and here's a radical thought – actually be audacious?
Salon de Refuse'
The Royal Scottish Academy's newly introduced Architectural Salon Evening last week offered an interesting insight into the organisation's allocation of space at its Summer Show – more this year for architecture than ever before and this during an industry downturn – and the welcome innovation of a whole room devoted to a single architect. The honour of being the first to fill the latter space went to Gordon Benson, a Royal Academician and not it seems a Royal Scottish Academician, the latter an oversight the RSA must now surely redress. Indeed, on looking round the room the sheer volume of competition-winning projects – including our own Museum of Scotland makes you wonder why Benson hasn't yet been given one of the many lifetime achievement awards that always seem to be floating around at this time of year.
I confess to bias here, having previously worked for the man and his partner Alan Forsyth, but more objective visitors to the exhibition, on seeing the ridiculous number of projects in Scotland on show that have never happened, may well wonder whether the country's architecture is the better for the absence of so many of them. As one who was already familiar with almost all of the designs, the optimism of the room still comes as something of a shock given the scale of rejection on display. Whether or not you choose to like the architecture itself, you would be hard put to dismiss the forensic cultural analysis that underlies its production. It is to Academician Robin Webster's credit that Gordon Benson was given this opportunity but history is likely to record it as Scotland's eternal loss that so many outstanding projects lacked the political support necessary to deliver them. If ever a body of work merited the term Salon de Refuse', this has to be it.
Bucking Convention
Over in Stirling a few days before, the annual RIAS roadshow hit Richard Murphy's Tolbooth. I missed the first day of events, but arrived early enough on the Friday to catch the opening act on that day's programme. I should probably have read it through properly the night before though, since this turned out to be Ruth Reed, the current President of the RIBA. Now Ruth seemed to be a nice enough lady but I quickly realised why she attracts so much vitriol in the professional press from some of her members. Not only did she have little to say that connected with the Convention's theme ('Cultural Regeneration') but she managed to accompany her talk with one of the poorest visual presentations I've seen in years from a qualified architect. I can only hope that when representing the profession to politicians and the other decision makers who run our country and our industries that she gets somebody with a bit of techy nous to put a show together for her, else what will they make of her snaps of Selfridges in Birmingham and the block of flats she lives in?
At the opposite end of the spectrum, the morning's programme was retrieved in fine style by Anne Lorne Gillies who had actually given some though to the content of her talk and really got stuck into what the theme was all about, even going so far as to contribute a song to the proceedings. Chalk and cheese just doesn't begin to describe the intellectual contrast between the two. Somewhere in the middle of this sandwich Karen Anderson of Anderson Bell Christie and now chair of S+AD gave an energised presentation of what she hoped that organisation will become in its newly reformed state and certainly, for many in the packed audience, it was probably the first time anyone had bothered to tell them what role it might possibly play in the future development of Scottish architecture. That of course was before Edgar Gonzalez laid bare the tragedy of Peacock Visual Arts in Aberdeen and brought us all back down to earth about the shocking way we allow our built environment to be determined by the forces of darkness and oppression.
The welcome intervention of lunch into the day allowed people to queue and complain about how uncomfortable they found the building's seating but pretty much everyone made it back in to hear Tim Macfarlane make a case for the beauty of glass structural systems if not exactly for its role in cultural regeneration. George Ferguson reminded us that it was possible for architects to take a pro-active, hands-on role in ensuring our environment has some real quality and implicitly got across the message that not all RIBA Presidents have undergone lobotomies. The proceedings ended with Louis Becker extolling the work of a practice – Henning Larsen - from a small nation getting to grips with cultural regeneration in other countries. Some of the projects were not especially memorable but his office's design for a children's education centre in Syria was simply beautiful and one that will surely rank among the world's best buildings when it is completed.
Overall, the RIAS seems to be getting some of its mojo back – last year's event had its moments, but the gloomy mausoleum of Dundee's Caird Hall was a bit of an atmospheric downer: this year the auditorium of Stirling Tolbooth was packed to the gunnels and although not entirely comfortable as a result, did have an enthusiastic buzz about it. This, at a time when any congregation* of architects generally tends to resound to individual cries of "woe is me." But then again, maybe the ones who attended come from the glass-half-full school.
* What is the collective term for a collection of architects? The subject also came up at the RSA's Salon evening: Richard Murphy believes it is a 'jealousy' of architects but I find myself erring towards a 'poverty' of architects.
Not much of a union
Some subjects just run away with themselves, so much so that they really deserve their very own blog to effectively communicate the many facets of the fast-changing environment in which they exist. One such is Aberdeen's Union Terrace Gardens, a long-term object of fascination for the Wrap or, to be more specific, Sir Ian Wood's proposal to put up £50m of his own money to eviscerate this part of Furryboot Central. In the run-up to a Council vote on the matter last week - and indeed in the aftermath of this democracy-lite event - all sorts of remarkable developments occurred (in the true sense of the word 'remarkable') which, in combination, make you wonder if Sir Ian and his business chums together with the Granite City's ever-compliant Council are on the same planet as the rest of us. In order to keep track of the story I've decided to break it down into bite-size segments for you to absorb at your leisure, but please stop now if you're easily shocked.
Malice aforethought
The lead up to the Council vote on Sir Ian's plans was obviously hotting up but the news report on the very day it was to take place smacked a tad of desperation. From left of field came another idea to thwart Peacock Visual Arts increasingly impressive campaign to save its own project for the site. It was portrayed as "Stewart Milne, the Aberdeen FC chairman and head of one of Scotland's largest construction companies has made an 11th hour bid to defuse the incendiary row over the future of Union Terrace Gardens." Stewart's "third way" solution to the controversy was, in fact not his but that of ACSEF who had approached the tycoon with the idea of the Peacock being included in the redevelopment of the Triple Kirks, the Archibald Simpson-designed church complex that overlooks the gardens and which has lain derelict for more than 30 years.
Tom Smith, chair of ACSEF insisted that "the best solution for all, we believe is an iconic contemporary arts centre within the City Square project but if that is not acceptable to the `Peacock then the Triple Kirks site could provide an attractive alternative for them. It is within the city's cultural quarter and, with the Stewart Milne Group leading the redevelopment could be cost-effective for them and their public funders." Such consummate dissembling would be admirable were it not for a few stark facts that Tom was surely more than aware of: first, that the Peacock had previously looked at the site and found it would cost an unaffordable £35m to achieve its plans there; second the fact that the Peacock's funds are indeed public so would presumably require the project to be tendered for, and not therefore be straightforwardly available for beneficent use by Stewart Milne; and third, that the said public money was for the Peacock's project for Union Terrace Gardens and not for one on another site. And to top these shameless canards, the implication that the Peacock was being obstructive and that really there was a wonderful opportunity for it within Sir Ian's plans.
Sir Ian gets the vote – who'd have thought?
And so to the vote itself. The debate occupied all of the day in the Council chambers, but when push came to shove, an opposition Labour motion to press ahead with the Peacock scheme at the expense of Sir Ian's plans was defeated on the casting vote of Lord Provost Peter Stephen. Crucially, three councillors – two Labour and one Lib Dem who were members of the Peacock board – were excluded from the 14-14 split vote because of rules on impartiality, a code of conduct that didn't seem to affect the leader of the Council, John Stewart, who also sits on the ACSEF Board. So, with that out of the way, the real vote could proceed and with a result of 20-7, Aberdonistan's good and true showed how low they could bend for Sir Ian and his money. Sir Ian of course quickly showed himself as a gentleman Don by praising the councillors for taking what he described as a far-sighted and very difficult decision."
Interestingly, he went on to say that "the polarisation on this very important issue has not been healthy for our city and now that a positive (sic) decision has been taken every effort must be made to take account of the various concerns expressed and ensure that the project proceeds in a way that will have the optimum benefit and impact and benefit for the citizens of Aberdeen. It should be perfectly reasonable now that this decision has been taken to try to have an acceptable joint project in which the contemporary arts centre and wider cultural interests are a part."
To which one can only respond, "yeah, right" because (a) there wasn't any polarisation of opinion until Sir Ian elbowed his way onto the scene; (b) any notion of compromise and new acceptance of the views of others is contradicted by the fact that the Peacock has now effectively had to throw in the towel and indeed may now be forced to cease trading. Elly Rothnie, the articulate project director for the Peacock's plans, has also now lost her job as a result of the emergency meeting held by the arts organisation's board to examine its future. It looks like 35 years of Aberdonian cultural endeavour down the Swannee. Truly a triumph, Sir Ian, and one the Wrap predicted you'd achieve right at the beginning of this fiasco.
Context, but not as we know it
After all this, I still managed to be surprised to hear Neil Baxter, Secretary and Treasurer of the RIAS, on the radio lamenting the fact that Scottish Enterprise's gung-ho Grampianettes had approached the organisation about Sir Ian's notion to hold an international architectural competition to legitimise his plan but who had made very clear they didn't want a Scottish architect to win. You don't have to be a rocket scientist to anticipate Neil's response (unacceptable) but he almost certainly pushed the RIAS into eternal Aberdonistan purgatory by publicly pointing out how illusory the project's supposed cost of £150m was.
We all know that if the project goes ahead it will be because upwards of £500m or your money and mine will have been misdirected towards it by our political masters, but this wasn't the aspect that the chief Grampianette chose to respond to, oh no – Scottish Enterprise's Regional Director Maggie McGinley defended her officer Nicola Moore's comments by saying that "the conversation regarding an international architect has been taken completely out of context. There is global interest (sic) from architects and engineering firms, so any design competition we (?) launch will encourage ideas from architects across the globe – which most definitely includes Scottish and UK architects." Which of course does not mean that any of the latter will be allowed to win. I don't know how Nicola explained herself to Maggie to get herself out of SE's internal soup, but I do wonder how its possible for "we don't want some wee Jimmy from round the corner in Aberdeen winning this" to be taken out of context.
Stand and be counted
Given that this episode has been the first time in years that the RIAS has actually taken a clear political position on anything it could only keep going and, following an excellent presentation at its Convention by Edgar Gonzalez, architect for Peacock Visual Arts, a quick petition of those present produced almost a full house of signatures of support from architects present. Except of course for those working for government and local authorities who needed to remain apolitical. Oh, and RIBA President Ruth Reed who didn't feel she could take a position in support of one of her members or of an RIBA regional grouping. Pathetic, Ruth, but I have to say wholly characteristic of the RIBA these days. If only the RIBA Council was also to come out against SE Grampian's competition plans – that would be something, so over to you Ruth – and to those architects in Scotland who maintain dual RIAS/RIBA membership – petition your President to get onside. Such a move might even impact on the architectural press. Last week's 'Boots' column in BD managed to report the petition in its usual supercilious metropolitan way, so come on guys, what about actually standing up for architectural excellence for once, even if it is outside of London?
Academic independence
Where stands the Scott Sutherland School of Architecture - the Robert Gordon University's very own hothouse of design talent - in all this? Well, designs by three of its post M.Arch. students for Union Terrace Gardens – still described as a square on the ACSEF website even though the organisation is now furiously trying to shift its publicity towards the idea that Sir Ian's project will be more publicly acceptable if described as a park – figure prominently on its home page. But comments from the leadership and staff of the School have been noticeable for their absence. Why should this be, you might ask, for only Stuart McDonald, former director of the Lighthouse and emeritus professor at Grays Art School (also a part of the Robert Gordon University) has been publicly and commendably voluble in opposition to Sir Ian's scheme. But then, an emeritus position is honorary and unlikely to be affected by strictures from on high. Oh, didn't I say? Sir Ian Wood is Chancellor of the Robert Gordon University.
And finally…
I've no idea how much money has been expended by Sir Ian and his ACSEF chums so far – its certainly a lot - but you have to wonder if any of it has produced the effect intended. The theory that it is all about creating a post-oil industry world centre of energy would, you might think, stimulate positive international interest – and you have to assume, spectacular new investment opportunities in Aberdonistan. Sadly not, and even Sir Ian's anticipated upbeat profile for the city seems still to be some way off because some cheeky protesters, demonstrating the kind of entrepreneurial spirit Sir Ian extols, have put the bankrupt city up for sale on E-Bay. The item description reads: "this is your chance to buy the once glorious city of Aberdeen. We've already sold off our integrity, reputation, culture, green space and the democratic process, now you can buy the rest." By Saturday last 39 bids had been lodged with the largest offering £1260 for the city. Remarkable, really, how much negative publicity a truly bad idea can generate and you have to wonder whether any project on the Union Terrace Gardens site can now retrieve the damage done by Sir Ian's ill-thought out plans.
Back to May 2010