RIAS delegates unanimously reject 'City Square' plans
|
Send to friend
May 17 2010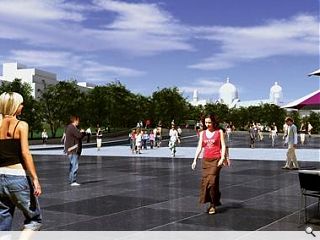 A straw poll of delegates at this years annual RIAS convention has failed to find any architects willing to support Sir Ian Wood's City Square plans, although there were a few abstentions.
A petition circulated amongst attendees invited signatures in support of one of two competing plans for the contentious site. All 122 who duly put pen to paper did so in the box marked 'Peacock', leaving a large blank void surrounding the shunned 'City Square' section.
Harsher critics may draw comparison with the empty space of the Square itself but Wood is likely to have ears only for the one poll that matters, Aberdeen Council's gathering on Wednesday which will decide the fate of the scheme once and for all.
In a memorandum delegates savaged Halliday Fraser Munro's plans (who presumably weren't in attendance) stating: "The costing is absurdly light, making this proposal both technically extremely difficult and financially potentially draining. It was also felt that the loss of the historic gardens would destroy an important amenity and "breathing space" which, carefully regenerated, could be of even greater value than at present."
In contrast Peacock's plans from Brisac Gonzalez architects were praised as "visionary."
Back to May 2010