Falkland war kicks off as historic enclosure goes to the wall
|
Send to friend
April 9 2010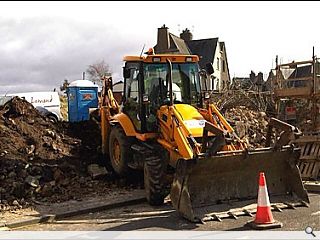 Lomond Homes have been accused of a 'smash and grab' after reneging on a deal to partially dismantle a 250 year old sandstone wall in the Fife town of Falkland.
Citing health & safety issues the developers hired a JCB to bulldoze a 20m section of the wall, only stopping when "livid" locals blocked the diggers destructive path with their cars and called in police.
Dr Bob McLellan, Fife Council's head of transportation services stated that a verbal agreement had been struck with the developer to "only take the top metre off the wall," but Lomond state that the remaining stonework was so unsafe it was not viable.
The developer has agreed to discuss the feasibility of rebuilding the wall.
Back to April 2010