Duany on the money?
|
Send to friend
April 9 2010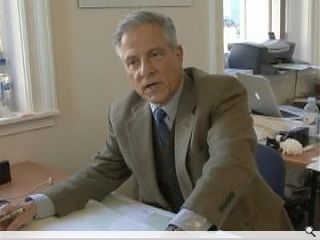 New urbanist Andres Duany has sparked protests from architects after alleging Scotland has not built any housing to be proud of since 1945 - after the Scottish government shelled out a reported £200,000 to import the expertise of Duany's practice, Duany Plater-Zyberk & Company.
Urban Realm caught up with the American in Lochgelly, during a recent charette tour of architectural trouble spots to find out what basis such arguments had.
"You know what's different?" Duany remarked of Scotland: "In America we've dealt with the dark, you guys haven't and often aren't interested. Grey harling is exactly the material we use for parking lots." In turning away from this grim grey gruel Duany was struck by the warm red Locharbriggs stone of Dumfriesshire, now rarely used on grounds of cost. "I asked architects if they'd used it and they all said well it's too expensive and I said 'have you thought of using it'? If you were to decide collectively as Scottish architects not to be international architects and not look like everywhere else you could open up your local quarries which would suddenly become economical."
Isn't the aping of historic vernacular inherently leading to pastiche though? "What's pastiche? What does that mean?" Duany asks. "It's made out of real materials, the windows are real, modern buildings are vinyl. I think pastiche, that little invention of yours, is not properly explained. It's just a way of beating somebody like saying 'papist'. Oh he's a papist. What the hell does anyone here know about Catholicism? Nothing. But he's a papist. It's not pastiche it's a way of doing things that is not more or less morally superior.
"Pastiche is an ethical attack. Modernism is very pastiche. I can show you a Richard Rogers building being built outside the Tate (Neo Bankside), those metal struts are fake. The building performs perfectly without them, he's adding them for ornament. Is that pastiche? It's decorative, it's actually worse because it pretends to be structural when it isn't, at least the traditional decoration only pretends to be decorative. I love Richard Rogers I really do, they're beautiful buildings, but I don't assign moral opprobrium to him."
The full article can be read in Urban Realm issue 2, due out on May 28.
Back to April 2010