Keppie discuss Central Quay vision
April 9 2010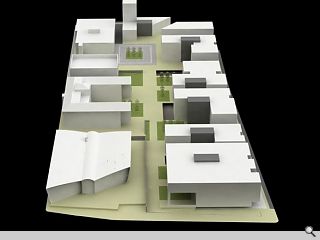 With an alarming paucity of construction evident in Glasgow over the past few years one scheme which looks set to assume increased importance is Central Quay. Once largely forgotten about amidst sexier, brasher rivals the scheme has risen to new found prominence as successive schemes fall foul of the downturn.
Property fund Goodman is thought likely to proceed with the riverfront scheme in the wake of rival developers such as Kenmore and Kilmartin's demise, staging a design competition for the site which was recently won by Keppie. Urban Realm spoke to practice director Richard MacDonald to find out what the scheme means to the practice and to Glasgow.
"Some of the previous ideas whilst constrained by cost probably weren't to Goodman standards," MacDonald averred of an unloved Auckett Fitzroy Robinson plan. Picking up the reigns Keppie opted to tweak rather than reimagine their inheritance: "The previous scheme turned its back on the street but we're trying to reinforce an urban block and create a variety of spaces to make it an urban scheme and not a business park."
"The scheme was centred on a platform a couple of metres above street level with an undercroft car park engineered below but to cut costs we've created a halfway house where there are certain open areas within the deck," explained MacDonald.
Keppie's approach is to place particular emphasis on view nodes along the Broomielaw and Argyle Street corridors, both of which are bookended by the 11 acre site. MacDonald stated: "We think Central Quay is a very important juxtaposition between two distinct parts of the city and that's why we're trying to meld the urbanism with the more open landscape to the western edge."
The fate of Bilsland's bakery remains up for discussion MacDonald added: "Whether that element becomes incorporated or not is part of the next exercise. The client needs to determine how they want to play out that element. What's probably realistic to say is that we're looking at that aspect whilst we're having some sensitive discussions with the council."
Goodman are still to consider what that first phase is going to be and what it's going to comprise but MacDonald expects that by the summer they'll be in a position to submit concrete proposals.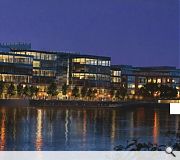 Goodman's Hammersmith Embankment, from Make, is a scheme Keppie believe Central Quay should aspire to
Back to April 2010