Duany puts some welly into Lochgelly
March 17 2010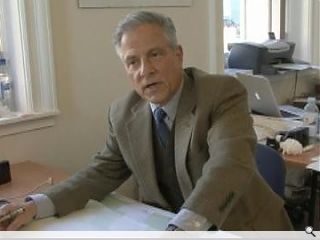 The "Scottish mining town they forgot to shut down", Lochgelly, played host to American urbanist Andres Duany of Duany Plater-Zyberk & Company on his whistle-stop tour of UK trouble spots in an effort to engage directly with local people to translate ideas into plans and drawings.
So what did Duany make of his cross Atlantic jaunt? Could our towns be more like Seaside, or are they still all at sea? Urban Realm caught up with Duany to find out.
Much of Lochgelly's mooted expansion is set to take place on Greenfield land leading some to question an apparent contradiction in terming such development 'sustainable', Duany retorted: "It's completely sustainable. First of all don't tell me this ridiculous lie that we're running out of land in this country, that is a fiction.
"I've flown all over, you're full of green land and most of your fields aren't even greenbelt. The only thing that is sustainable is if you can walk to things. Everyone's moaning about Greenfield but not properly contesting if it's walkable, it's palpably ridiculous, look at the map. This is the most developed part of Scotland and look at the amount of green land… you're not running out.
"Suds is another imported superstition, it you think that a scheme is ecological because it has good suds, think again. It might be in Saudi Arabia but here it doesn't matter. You're full of water."
A summary of the weeks findings can be read on the
official charette site
.
Back to March 2010