Denny emerges as latest Carbuncle contender
March 5 2010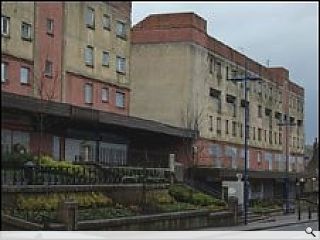 Denny has emerged as the latest Carbuncle contender amidst news that £11m plans to
regenerate the town centre
have stalled.
Henry Boot PLC and Keppie Design had proposed to redevelop a series of three decaying multi storey slab blocks along the town's high street.
The putrid yellow and pink monstrosities lie shuttered and derelict, ensnared in netting to catch falling masonry.
Work on the key site has been pending since 2004 and as yet the developer has no idea when work will start stating that this will not occur before viable market conditions return.
Local residents are up in arms at the prospect of further delays and are to stage a "walk around the block" protest rally on March 20.
Residents fear they could be waiting up to 15 years for action to be taken on the mothballed site.
Back to March 2010