Austin-Smith:Lord open People's History Museum
March 5 2010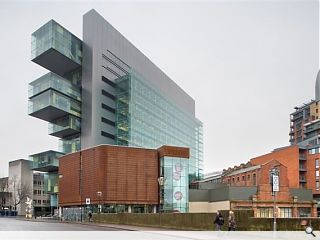 Manchester's People's History Museum has reopened following a £12.5m redesign by architect Austin-Smith:Lord.
The former pump house is the first public building in Britain to employ a cor-ten façade, to express a strong massing and bold form within the city's Spinningfields business quarter. This use of weathering steel balances new and old buildings whilst a high level link bridge provides direct connection between.
A dramatic engine hall stripped back to reveal the full volume of space and light to provide an exhibition and events space. A high level
Housing the Labour Party archive, along with collections of the Trades Union Congress, Communist Party of Great Britain, Suffragists and Suffragettes and the co-operative movement the museum covers 200 years of organised labour.
Back to March 2010