Page\Park bring Home Zones closer through debate
March 4 2010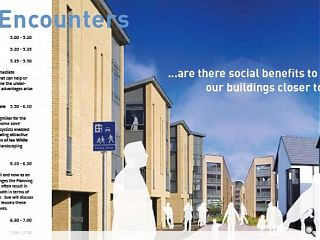 Page\Park staged an intimate debate last night, questioning the proximity at which we construct our homes and the issues which determine that, an issue close to the heart of the Glaswegian practice.
Dubbed 'Closer Encounters' the event aimed to determine why the narrow streets of traditional housing succeed where the wider avenues of more recent housing solutions frequently fail and forms part of a series of debates being held at the architects Merchant City base.
David Page introduced proceedings stating: "Recession gives you time to think. As an office we've been looking to the future of our environments, we've spent the past years designing around the car, now we're looking to put people back into the spaces between buildings."
In a modern suburb the separation of houses across the street can stretch up to 22m, a costly girth needed to accommodate successive layers of garden, pavement and parking. It is a situation which irks many and has become increasingly unsustainable in a country striving to maximise its land efficiency and raise density.
Streets widths have been on an upward trajectory through much of the 20th century as planners and health officials sought to invigorate a sickly populace through ever roomier environments, an attempt to bring light and ventilation to notoriously constricted vennels, some as close as 2-3m apart.
The City Improvement Trust subsequently stipulated that gaps between homes must be at minimum of 1.5 times height preceding the garden city movement as populations decamped to the outskirts, initially in Victorian suburbs of terraced housing, street widths of around 18m.
This remorseless growth reached its zenith at the height of the modernist movement where blocks have housing were cast adrift in a sea of scrubland putting isolated residents at an effectively infinite distance from their distant neighbours.
In an attempt to tighten the belts of the nations growing waistline Prince Charles squeezed a slim 12-14m width at the well studied Poundbury estate. It is the ideas contained here, if not the designs, that Page and Park have developed in Craigmillar, Edinburgh.
This has seen the practice pioneer the Home Zone concept in that city, an approach being watched closely by RMJM who plan similar guidelines for their Commonwealth Games Athletes Village, Glasgow.
Back to March 2010