Edinburgh Sculpture Workshop seeks funding support
March 4 2010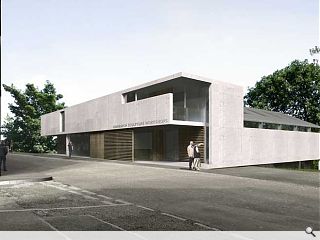 Edinburgh Sculpture Workshop is embarking upon the final furlong of a longstanding
fundraising campaign
to see new studios built in Edinburgh.
Thus far the organisation has raised 90% of the funding it needs but is still seeking public support to draw in the final £450k. A need given added impetus by a looming late March deadline to bring in match funding, failure reach this milestone would see £225k of grant funding withdrawn which could put the project in jeopardy.
New workshops are required to replace existing deteriorating facilities and provide improved facilities for artists. At present restricted, cold and damp accommodation is limiting the workshops ability to undertake all the activities and grow its artistic and public programmes.
Designed by Sutherland Hussey architects the centre is describes as a "prestigious addition to the cityscape" and will double the number of artists studios and provide apartments for residences.
Back to March 2010