Moffat Academy unveiled by 3DReid
March 4 2010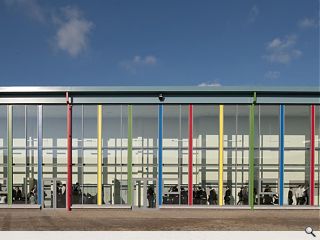 3DReid have completed Moffat Academy in Dumfries and Galloway, one of four PPP schools built by Dumfries and Galloway Council and a joint venture pairing of Amey Ventures Ltd and Cyril Sweett.
The campus accommodates a mixture of primary and secondary pupils, a relatively rare example of an "All-through" approach to education, an approach which integrates teaching progression for children from the age of four to seventeen.
Alex Donaldson, 3DReid's partnerships director, said of this approach: "Some communities in Scotland have a resistance to the concept, worried that the primary school element will become swamped by the secondary, but at Moffat quite the opposite is true. The separate elements come together to create a whole much more than the sum of its parts, meaning the children benefit from improved facilities and a continuous, unbroken education."
Moffat is orientated around a shared courtyard designed to act as a sheltered break out space overlooked by surrounding classrooms. This space is visible throughout the school and gives access to all social, teaching and administrative functions.
The introverted nature of the courtyard is contrasted by an exterior which references a neighbouring tree line through a colonnade of steel columns and via positioning glazed stairwells upon its axis. A mix of timber, brick, render and composite cladding panels comprise the exterior façade, emboldened by use of primary coloured elements embedded within double height glazing.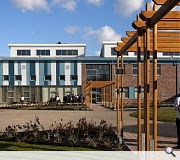 A courtyard area forms an introvert heart to the school. In contrast to the extrovert facade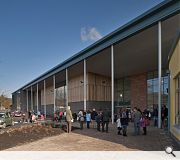 Steel columns extrapolate an existing tree line
Back to March 2010