Arnold Clark win Botanic Garage battle
February 12 2010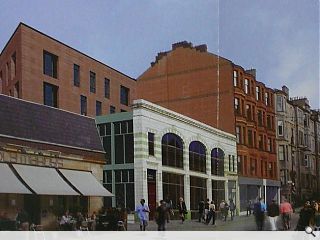 Urban Realm can reveal the first image of Keppie's recently approved
Botanic Gardens Garage
proposals for Glasgow's west end.
It shows a red sandstone residential block rising behind the restored 1911 façade of green and white terracotta. An existing garage annexe will be retained to the east.
Arnold Clark (AC) stated in their report that the A listed structure had deteriorated badly since Clark purchased the building in 1968.
The battered structure now suffers from loose tiles, corroded structural steel and an eroded concrete façade and floors. A situation that could deteriorate further, AC argued, if no economic use could be found.
The council had to be convinced that the listed building was incapable of repair or not of special interest or essential to the delivery of wider benefits or that repair was not economically viable.
The scheme will incorporate enhanced landscaping along Vinicombe Lane together with basement parking, retail, restaurant, office space and 20 flats.
Back to February 2010