Wilson's Weekly Wrap
Does the Riverside Museum appeal to you?
February 12 2010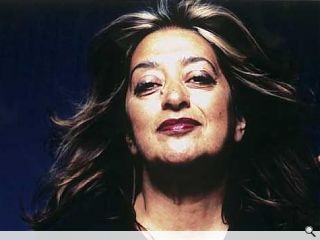 Way, way back in the days when Charlie Gordon's feathers were fairly puffed-up as leader of the City of Glasgow Council and long before he was comfortably nested on the rear perches of the Holyrood doocot, the chirpy wee chappie fronted up a typically-Scottish, typically-dodgy architectural competition for Govan's new Riverside Museum. I mention this because Charlie took great offence at the time at my suggestion that not only was the competition rigged but that the project would never come close to its proposed £50m budget. Unsurprisingly the budget soared just as I'd predicted. The anticipated final bill currently stands at £74m so only a 50% increase, which you have to agree is an absolute steal for a wriggly roof and a big window.
The reason for me reflecting on Zaha's inspired decision to plan the building in the shape of her initial (sorry, "to reflect the folds and flow of the river") and the latest state of its finances was an article in the Scotsman last week about the 'Riverside Museum Appeal', a hitherto little-known fundraising exercise aimed at plugging a £5m hole in the project budget. The Appeal has apparently been trucking along for about two and a half years and has rustled up around £2.9m to date, so you'd think the remaining gap – pro rata – would take approximately 20 more months to fill. The sum raised so far has come from "foundation and corporate givers" but, with very little of corporate Scotland still breathing, Gavin McLellan, the Appeal director, has turned his attention towards the public from whom he hopes for at least £0.5m in smaller private donations. Gavin went so far as to compare this to a (notional) local school, paid for through council tax, where extra gifts from the public build an "ownership stake". "It's a similar situation here," he gushed – "this is your museum, this is your collection, if you want this little bit extra for this fantastic facility."
The Scotsman obviously didn't feel the need to give any space to highlighting what exactly this little bit extra might be, but since the City of Glasgow Council (ergo, taxpayers and council tax payers) has provided a 'grant' of £52m and the Heritage Lottery Fund has chipped in £17m (source: public participation in the National Lottery) only the arithmetically-challenged will fail to spot what the other £5m is actually for. Now I don't want to wee on Gavin's strawberries here, but I have to say this doesn't seem to me to be a very appealing proposition – i.e. that we should all stump up more money out of taxed income for something we've already paid through the nose for. As for the notion of "ownership" – Cheeping Charlie took that away from us when he launched his "competition" and failed to give the public any say whatsoever in its all-too-predictable outcome. So, Gavin, if it's a choice between Hadid or Haiti, I know where my money is going.
Red or dead?
He who lives by the p.r. consultancy dies by the p.r. consultancy. What else can be said about Sir Ian Wood's "public consultation" on his generous proposal to stump up just over a quarter of the £150m cost of replacing Aberdeen's Union Terrace Gardens with a new "city square", providing that you and I conjure up the other £110m plus from somewhere, anywhere? Until very recently the acolytes of Sir Ian on the grandly-styled Aberdeen City and Shire Economic Forum (ACSEF) had been surfing along on a wave of craven forelock-tugging from the nation's press and, despite the best efforts of Peacock Visual Arts whose own plans for new premises on the site had been unceremoniously binned by the oil services mogul, there seemed to be (as intended) only one show in town. And then, under the guiding hand of p.r. consultants Weber Shandwick, Sir Ian's dicky designs were put on public display so that we could all say how wonderful they were.
Except that very few have: some 6100 have signed up to a campaign to save the Gardens, a mere six times the number wheeled out by the ACSEF/Weber Shandwick lobby. Now, any good p.r team could spin this to positive effect, but what couldn't have been anticipated was the sudden emergence into the press spotlight of one of the Granite City's few megastars: in normal circumstances companies like Weber Shandwick would be turning cartwheels at getting someone as internationally respected as Annie Lennox into the story to generate world-wide press about the project, but not this time because Annie's got her gun out and is pointing it at Sir Ian.
And you can't say the ex-Eurythmic star isn't media-savvy: as a native of the city she's jumped ahead of the Aberdonistan mafia's usual bleat that people who don't live there aren't entitled to a say on their divine right to screw the place up – "I hoped this kind of vandalism had peaked in the 60s and 70s but for Aberdeen it seems to be back with a vengeance. What idiocy and madness. I've been based in London since 1971 so I guess that kind of counts my voice out, but to the citizens of Aberdeen I would say this: Aberdeen is your home town. Are you going to sit back and do nothing while its beautiful historic centre gets ripped out and concreted over? It's down to you to stop this happening."
Recognising a p.r. disaster forming in front of his eyes, Weber Shandwick's Neal Robertson coolly said that he had read Lennox's comments with interest and that "her response would be logged." Better still, he added, "it is good that people of a high profile are airing their views. The whole consultation was designed to get people involved." Which would be fine and dandy had he bothered to brief Tom Smith, chairman of ACSEF, before the latter made his own splenetic response to the press. Speaking of Nelson Mandela's right-hand angel, Tom just couldn't help himself: "Given that Ms Lennox appears to have made her comments based on a wholly inaccurate description of the project on MySpace, we are hardly surprised by them. Objectors' claims that it will be a flat concrete square similar to Red Square are misleading, as is their statement that it will be full of shops and car parking." This, from the leader of a team whose own public statements and overbearing stance on the matter to date would make even old Muscovite apparatchiks blush, seems just a tad oversensitive. But he's got a point: Sir Ian's plans aren't Red Square - they're far bigger than that and unfortunately our Annie has put the international spotlight on Tom's master's megalomaniac notion.
So, with the wind now beginning to blow away from Placebo Plaza, could it be that the Scottish Arts Council might actually stand up for Peacock Visual Arts already approved plans for a new centre and confirm that its previous promise of funding will be extended beyond its end of March deadline? That would certainly change the dynamics at Union Terrace Gardens, but in the wicked world of Scotland's quangos one should always remember not to hold one's breath.
Skating on thin ice
Of course, the Scottish Arts Council will itself shortly be no more: after a long gestation, it's about to be reborn as the Siamese twin of Scottish Screen. The new body will be known as 'Creative Scotland' but even before it's emerged from the womb, the luvvies and the chattering classes have been doing their damnedest to see it stillborn. Cheerleader for the latter group this past week was Jenny Hjul of the Sunday Times who, surprisingly, offered up something different from her usual Groundhog Day attacks on the current First Minister. No this week she was all a-froth about the new body's 'Vital Spark' prizes, a £500k pot for the dipping into by divers (in this instance the East Lothian Diving Club, an integral player in Gross Max's plan to create a public space in Dunbar harbour complete with underwater element) and wrestlers (don't ask).
I'll save you the bother of tracking down her rant: suffice to say it was but a minor variation on the usual "all arts funding and arts bodies are a waste of time – if we have to fund art at all, it should be Art with a capital A." For probably the first time in her scribbling career, Jenny has taken sides with the Scottish Government, or at least the one that existed three culture ministers ago when the idea was to shift "towards trying to encourage art which will have an audience and a market and away from just giving grants." This notion that art that is popular is art that is acceptable is of course the same one that filled the Gallery of Modern Art in Glasgow with Beryl Reid's daubs, but Jenny has the high ground here because she's managed to identify several projects that received substantial grants from the Scottish Arts Council and which have so far failed to deliver. What makes this relevant here is the appearance on her list of one Malcolm Fraser who received £30k in 2003 to transform part of Edinburgh's Grassmarket into an ice rink (Jenny's description) and which – apart from during the recent cold snap – has so far not materialised.
Now a hack with even a remote concern for the facts might have spent a bit more time on this before firing off, but that's not Jenny's style. Those of us who remember the actual sequence of events have a different and less convenient tale to tell. You don't need to be an architect to appreciate that £30k will not an ice rink build – strewth, it doesn't even come close to covering the design effort involved– and I certainly recollect Malcolm and his office putting a great deal of time into a project that was intended to extend the qualities of their highly successful Dancebase out into the public realm.
What Malcolm hadn't accounted for at the time though was the City of Edinburgh Council's total disinterest in making the Grassmarket an enticing urban space when it could instead expend yet more public money on a project by its favoured landscape architects, Giilespies (North Castle Street, St Andrews Square, et al) and who not only produced their signature load of bollards but also a public space of a quality synonymous with north Lanarkshire's civic best. No Jenny, the real scandal is not that Malcolm was awarded - and appears to have used as effectively as he could - a relatively paltry sum of money: it's the City of Edinburgh Council's continuing determination to homogenise the capital's once unique urban landscape - real Art with a capital A - that deserves your vitriol.
Casa del Potterrow
I don't know how many times I've found myself either accidentally or deliberately at presentations by Rab Bennetts during which his eponymous practice's well-developed philosophy of sustainable building design has been expounded in considerable detail. Over the past year or so the thesis has focused around Bennetts Associates' multi-award winning Informatics Building at Edinburgh University and for my sins I'd begun to reach the stage where I felt I could do a lecture on it myself just from memory.
You'll understand my surprise therefore when I opened the 'Sustainability in Practice' section of last week's AJ to see a large picture of Giuseppe Terragni's Casa del Fascio in Como of 1932-6 fronting an edited version of Rab's text for the Docomomo annual lecture and which, the caption revealed, had inspired the practice's vision for its Potterrow' project. Now you could have knocked me down with some fasces, for in all of Rab's talks that I've previously attended I don't remember a single mention of this conceptual nugget. Sadly the AJ's editing these days is as flaccid as its graphic design, so this intriguing allusion made no further appearance in the text but, if true, it is surely new and interesting territory for the Bennetts' organisation since the rationalist tendency in Italy (as exemplified by Terragni) was inseparable from the cultural demands of Fascism and the attempt to reconcile progressivist ideals with tradition. I can well understand the fascination for the latter by architects today but it's a bit more difficult to reconcile the cultural connotations that will always accompany these references. I suppose I'll just have to attend yet another presentation to see whether Rab's musings were just for the benefit of the Docomomo crowd or a post-rationalisation of a rationale some way from his usual low-energy rationalism.
And finally…
As predicted in the Wrap some weeks ago, I see Frank Gehry has now confirmed that he won't be able to find time to enter a competition to design the Dundee branch of the V&A Museum. Not because he's 80 years of age mind you – no he's simply got too much work on in interesting places around the world to think about Jute Town. As with the Riverside Museum that this week's Wrap began with, so to the silvery Tay – when will our local politicians and their flunkies get wise to the fact that the moment for flying in these superannuated superstars and their one-line ideas has long gone and that a more reflective, locally-appropriate architecture is a far more sustainable alternative? But no, the notion that total economic revival can be stimulated by one wacky project is just too seductive.
It's not enough either that architectural critics like the Sunday Times' Hugh Pearman are able to mock them mercilessly for wanting to reclaim land in order to put the project out in the river when Dundee's waterfront area has a whole host of sites that are far more suitable and infinitely less costly to develop. No, they powers-that-be are on a roll now so we'll have to go through the whole ghastly process before anyone notices how out-of-date it all is. By that stage of course, the Director of the V&A, Mark Jones, will have gravitated to the House of Lords for dreaming it all up and so won't be the slightest bit bothered by any local fall-out. But there I go again, getting onto that Honours stuff. So, if you thought I'd taken time off from that, you'd be nearly right – I'm saving Gareth Hoskins OBE's latest whizz-bang project for next week.
Back to February 2010