Colourful skyscraper could brighten up Liverpool
February 8 2010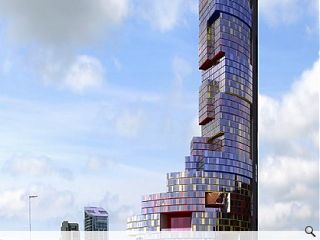 A colourful proposal for Liverpool's waterfront is in the offing after developer duo Richmont Property and Y1 Developments submitted plans for a 54 storeys (165m) skyscraper on the banks of the Mersey.
Standing proud on former dockyard the tower is sure to have motorists craning their necks to ogle Leach Rhodes Walker's multicoloured behemoth – if it secures planning permission.
Comprising a mix of offices, hotel and apartments nestling atop a striking birds nest atrium a plumage of red, blue and yellow glazed elements rise stacked one atop the other in pursuit of the sky.
Already the tower has stirred rivals with Peel Property objecting to a similar prior design for the site, fretful of their high rise competitor scuppering nascent plans for an even grander vision, the Shanghai Tower.
If the developers have their way the scheme will be on the up from 2011 in time to crown the Liverpool skyline by 2014.
Back to February 2010