Annie Lennox vocals aren't music to the ears of Sir Ian Wood
February 8 2010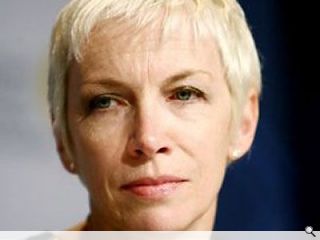 Singer Annie Lennox has added her voice to a chorus of disapproval directed towards a civic square in Aberdeen which would envelop Union Terrace Gardens.
The scheme struck an off note with the songstress who has urged other would be voices of discord to back a campaign to "stop this happening".
Writing on her MySpace blog the vocal critic said: "Aberdeen was my home town. I was born there, and lived in the city until I was seventeen. For me, Union Terrace Gardens was, and still is the green historical heart of the city.
"Like so many towns and cities all over the country, Aberdeen lost a great deal of it's architectural heritage and charm through destruction by bulldozer and concrete. It made me sad then, and it still makes me sad. I hoped that this kind of "vandalism" had peaked in the 60's and 70's, but for Aberdeen, it seems to be back with a vengeance. What idiocy and madness.
"I've been based in London since 1971, so I guess that kind of counts my voice out... but, to the citizens of Aberdeen I would say this..."Aberdeen is your home town. Are you going to sit back, and do nothing while it's beautiful historic center gets ripped out and concreted over"??!!
"It's down to you to stop this happening."
Backers Aberdeen City and Shire Economic Future are currently holding a
public consultation
into the plans and promise to bring on board "internationally acclaimed architects" if the scheme is approved.
Back to February 2010