Wilson's Weekly Wrap
The shape of things to come
February 1 2010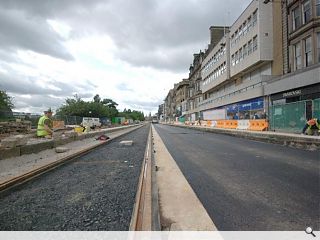 Now that the first masts for Edinburgh's tram system have been planted in Princes Street I can safely say I've rarely seen anything cruder, uglier or less appropriate for a World Heritage Site. If the possibility of electricity pylons from Beauly to Denny can exercise the opposition of some 18000 concerned souls, where is the equivalent reaction to this outrage from within the capital's population? Sure, the still-unfinished tram system is way, way over its £520m budget, but that's no excuse for these masts to be so spectacularly devoid of any design intention.
And it's not as if it's a new problem – way back in 1996 when the city's council was first looking into the possible re-introduction of trams, I was sufficiently concerned about the lack of any discussion of design to arrange for a mast and a street lamp from Oslo's (then) new tram system to be shipped over and temporarily erected in Edinburgh as elegant contemporary examples of what could be made to happen if the will existed. Public and indeed individual politician and council officer feedback at the time was very positive, but the passing of the years has seen many changes of personnel in the City Chambers and – more disastrously - the emergence of TIE as the Council's wholly owned but essentially unaccountable body in charge of the tram project.
It would be unfair though to suggest that the problem is one of political amnesia since what is emerging can only be described as rank political ineptitude. Given the public's concern over a tram system it had comprehensively demonstrated it did not want, it was surely incumbent upon the council and its nomenklatura to ensure the best possible solution was sought and implemented to allay all doubt as to the value of this new infrastructure to the city. Naturally TIE insists the masts are unfinished and that once complete – topped off with integrated street lamps - they will prove to be things of beauty. Yes, maybe, eye-of-the-beholder and all that - especially if the beholder continues to squander its substantial budget on un-winnable and horrendously costly disputes with a German main contractor it shamelessly demonises.
Plenty of examples exist worldwide of well-designed tram systems but tragically the capital's is unlikely to join the list. Edinburgh will instead have a laughably emasculated line for which all of the stops are in the wrong places and the installed fabric of which can only be characterised as deliberate urban blight. It can no longer be said that Scotland's national disgrace is the unfinished monument on Calton Hill - no, the title has been summarily shifted several hundred metres down onto what was once one of Europe's unique thoroughfares. Tragically, no one appears to give a damn.
Think not what you can do for your community
Well what do you know – I write a simple line suggesting it's a doddle to apply for one of the Queen's baubly thingies and a comment appears under last week's Wrap suggesting it's not quite as simple as that. Nope, if my correspondent (Liz) is to be believed, it's not at all a straightforward process and these things really are of value and a measure of genuine achievement. In mitigation, I can only say I was taking our previous Prime Minister at his word when he said that these awards should be available to all and that the selection process had been simplified to ensure that more bus drivers and tea ladies – the solid and reliable parts of society – were properly recognised for their indispensable contributions to the common weal. Sad to say, it seems - despite being a self-confessed pretty straight sort of guy –Baron Blair was uncharacteristically disingenuous on this one because it turns out it's still a twice-a-year, bauble-a-job for those who contribute most to things like - oh - political parties.
Now I appreciate you'll read this and think I'm being unduly sceptical here, but believe me – there are people out there who think the nation's venerated honours system is being abused. No, really. Take for example the website for ShredSirFred.org.uk which is looking for a million people to sign up to the notion that the current Prime Minister needs to have a quiet word in the Queen's shell-like about separating the Buddy Banker from his knighthood. The very thought – that the man who gave us the Gogarburn Metrocentre and re-branded the capital's congested landing strip as RBS International Airport should be reduced to the penury of a Paisley Pension and humbled into plying his new-found trade from a Bell's Brae basement. Heaven forfend he should also be deprived of his three letter password to the best tables in restaurants.
You'll have realised by now that the message from Liz referred to above has had me off scrutinising the hierarchy of three letter passwords to see what an OBE entitles you to or indeed what the criteria for club membership are. The latter - despite Lizzie's remonstrations to the contrary - turn out to be as undemanding as I first thought: a simple application form on your behalf plus a few letters of support (presumably from existing club members) as well as a couple of statements to the effect that the proposed recipient has "a distinguished regional or countrywide role in any field', or has shown some "achievement or service to the community" or "be a notable practitioner known nationally." So there you have it – two out of three will probably get you the club secretary's welcoming handshake without any need to prove you've done 200 hours of community service. But it's not a shoo-in: Boy George after all has tried that one and he's never been given an OBE. But then, he probably isn't Donald Trump's new best friend either.
Don't Kvint them out just yet
After the Hello!-style front pages and the numerous double page spreads covering the unexpected marriage of Sir Fred and his far-from-blushing bride, the story has rumbled on, with some steamy emotions still on public display. The Edinburgh establishment wheeled out one of its literary pop-guns in the shape of Allan Massie to stoutly defend both RMJM and Shreddie with an argument that was mainly an attack those politicians who questioned the company's presumption of future public sector contracts.
Allan's main point seemed to be that given the nation's parlous economic state (a problem he managed not to connect too closely to the once-vaunting ambitions of RBS, RMJM's ability to operate successfully in the international marketplace and indeed to secure work in China made any criticism of its actions petty and wrong-headed. Bizarrely, he managed to admit in the same piece that he had in the past made much the same argument on behalf of the Gorgon of Gogarburn. Unsurprisingly, one of the politicians he so loftily dismissed – Michael Connarty, MP for Linlithgow and East Falkirk – came bouncing straight back in the pages of the Scotsman with a forensic analysis of all the reasons why the new lovebirds should be treated with the same degree of wariness Superman applied to green kryptonite.
This spat will no doubt continue to fizzle, but RMJM's p.r. department has - in true Tony fashion - already moved on from Shreddie stories to drumming up column centimetres about the other Kvint the company employs, one Vladimir by name who not only fronts up the practice's office in Vladivostok, but moonlights as head of the financial strategy department at the Moscow School of Economics and as adjunct professor of business strategy at La Salle University in Philadelphia PA.
As the Wrap pointed out last week, the boys and girls down Bells Brae way don't do humility in any shape or form and, as with Sir Fred, their tales of Dr Kvint's derring-do are nothing short of galactic. An economist to trade, the good Doctor K is apparently renowned for predicting the downfall of the Soviet Union long before anyone had coined the term Glasnost. He did though, come up with the phrase "emerging markets" which from his Siberian perspective you'll be pleased to know he regards Scotland as being one of. Interestingly, he also sees fiscal autonomy as necessary to allow Scotland to develop a successful economic strategy, something that has certainly become a bit pressing since his newest business colleague showed us all how an unsuccessful one can be created. Nevertheless, this little tit-bit may be just the thing to keep RMJM in with the current Scottish government and - despite Mr Connarty's strenuous efforts mentioned above - with full access to the nation's publicly funded projects.
Mind you, one contract that the company doesn't appear to have been considered for is the astonishingly large programme of major remedial works being planned for the Scottish Parliament building in another architects' office at the opposite end of Edinburgh. At a final contract cost of £12,558/m2 at 2005 prices, you'd have thought things might have lasted a bit longer than 5 years, but more, much more, detail of this and of the eye-watering maintenance and running costs (of those parts that actually work) in forthcoming Wraps.
The new broom
It's only a short walk up Edinburgh's Canongate from the Doocot of Democracy to the offices of one of its so far very ungalactic satellite bodies, S+AD. It would be fair to say that the so-called "architecture watchdog" has not exactly cut the mustard in its existence to date and you needn't take my word for it: Malcolm Fraser was quoted this week as saying the organisation had struggled for credibility amongst architects and had been "reined in" as an independent voice – and he used to be one of its deputy chairmen before resigning over its inability to question PPP.
To be fair to Malcolm though, his comments were made in response to the news that Karen Anderson of respected Glasgow architectural practice Anderson Bell Christie has been named as S+AD's new chair and the primary thrust of his remarks was that he was "heartened by her appointment." As indeed are many others since the announcement hopefully signposts a significant change in direction from the miserable lack of delivery that even the Scottish government's own lacklustre review of the organisation (see Wraps passim) managed to get antsy about.
I too am pleased that a practising architect of some repute has been prepared to take on the challenge presented by this quixotic outfit and am optimistic that Karen will be able to lead it quickly away from the pathetic tilting at 1960s windmills that so pre-occupied her predecessor in the search for X-factor style approbation of S+AD. Whether or not her remit extends to cleaning out some of the more unpleasant- nay unprofessional - elements of this particular Augean stable remains to be seen but it's highly unlikely that there will be any rise in the organisation's credibility as Scotland's "architecture and planning champion" amongst the profession until it is forced to desist from using public money in the furtherance of internal agendas that operate at the expense of individual architectural practices. A serious allegation for sure, but the Wrap is hearing too many tales to this effect for it not to merit some rather more forensic investigation than was carried out in last year's timid review of the organisation. In the meantime Karen, you have the Wrap's very best wishes.
And finally…
Thankfully the air pervading the world of Scottish architecture has been made a little less whiffy this past week by the news that Nicholas Grove-Raines is to purchase Lamb's House in Leith from the National Trust for Scotland and convert it into a new home and office for himself. One of the profession's genuinely quiet men, Nick has nevertheless had a transformational effect on the country's architecture over the years, not least in the remarkable number of prominent practitioners whose formative post-academic training took place within his office. With this new project Nick is doing what he does best – taking on a clapped-out historic property and giving it meaningful contemporary purpose. He's done it many times before but this time he's also managed to provide the National Trust for Scotland with the first acceptable press it's had for about three years – which, given that the organisation has about as much street cred these days as Sir Freddie and the dreamers of Bells Brae is no mean feat.
Quite why the NTS took on Lamb's House in the first place is anyone's guess since it was never likely to be able to do anything with it, either financially or functionally. But then, as a metaphor for all that is wrong in the incestuous world inhabited by the higher echelons of the Scottish business community, the recent troubled history of this particular organisation is worth a book in itself. But back to Groves-Raines, an architect that – if I blank out the rather strange Italianate house his practice built a few years ago on the edge of Gullane in East Lothian - I have considerable respect for. Indeed, if the profession in Scotland could ever think beyond its obsessive be-baubling of the authors of Cardross Seminary, it could do infinitely worse than consider Nick Groves-Raines for a lifetime achievement award. It's certainly one the wider public would understand.
Back to February 2010