Wilson's Weekly Wrap
Charettes of Ire
December 17 2009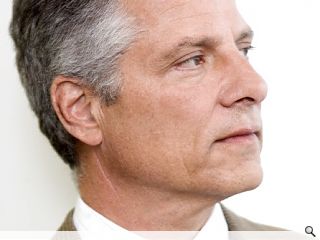 Way back in October I mentioned the predilection of Scottish Government director of planning, Jim McKinnon, for referring to Andres Duany as "the Tiger Woods of urban design," a simile that you have to agree has taken on a whole new meaning after the revelations of the past two or three weeks. It may be of course that Jim had the advantage on us all about this one and early on recognised the phrase's potential to improve the gender balance at the charettes run by the maestro of New Urbanism. It certainly brings a whole new demography-altering meaning to the phrase 'Scottish Sustainable Communities Initiatives' and I now understand the inclusion of Ladyfield in Dumfries in the selected list of locations. Lochgelly I'm not quite so sure about but I understand it has an 18-hole golf course so maybe it's just a bit of confusion down Victoria Quay way that's let this one slip through. Just one thing Jim: if Duany (who's really more of a gopher than a golfer) insists on you rustling up some barbies for his masterplanning sessions, jump in quickly to assure the assembled audiences that it's just an Americanism for grilling meat over hot coals.
Have you got yourself a Toshie Ton yet?
Well, it didn't take long – I only had to mention the name of Antonio Gaudi last week and that little bit of Glasgow that will always be Australian, the Clydesdale Bank, has come bouncing back with a response guaranteed to restore the city's best known architect to his pre-eminent international position. Yes, in one of the final flourishes of the Year of Homecoming and perhaps just a little in recognition of his much admired Art School's centenary year, the bank has issued a £100 note featuring Toshie's famous moustachioed fop image and a few of his more easily recognised graphic motifs. Now this is high praise indeed, because Robert Burns ("the Tiger Woods of poetry", © J.McKinnon) only made it onto the Clydesdale Bank tenner and it's been the 250th anniversary of his birth this past year, so its clear that Toshie - from the slightly more auspicious starting point of a rigged architectural competition - has risen stratospherically to become by far the brightest star in Scotland's creative universe. Whether such stellar performance is actually enough to raise him above canonization in this world's architectural pecking order is not for me to guess at but I suspect we haven't heard the last from old Antonio's supporters over in Barcelona, a city whose credentials as a leader of international style, I am continually informed by my friends in the West, have begun to pale beside those of Toshie's home town.
Talking big, thinking small
Over in Edinburgh – a city nobody would ever accuse of following current architectural fashion – the usual tenuous relationship with democratic process is being played out, this time at the city's International Conference Centre. For more than ten years its operators have been bemoaning the fact that Terry Farrell's drum of a building contained inadequate space for the type of trade exhibitions that provide the bulk of money to support large scale talking shops, and over this period a variety of projects have been mooted to resolve this problem.
At one stage there was an unholy public spat between Sir Tel and Allan Murray over (yet another) mock competition run by the city council that unsurprisingly was won by our knighted friend. This project seems to have come and gone without actually touching the ground – I can't actually remember all of the tedious details - and the most recent application for adjacent underground exhibition space paid for by spec offices on top was submitted by BDP. Sir Tel didn't like their ideas, given that they didn't fit in with his masterplan for the area. Trouble is, there have been myriad changes in council politics and council personnel since its creation in the early '90s and only Sir Tel now remembers the masterplan's plan.
Anyway, to cut a long story short, the Council (again, unsurprisingly) has given permission for this latest design which includes turning the basement into a 1600 seat auditorium to complement the 1200 seats that already exist. What makes this interesting is that Council officials were taking the trouble beforehand to publicly "warn" councillors that rejection would "seriously compromise" Edinburgh's efforts to compete with major rivals for major tourism events. That presumably includes an equivalent size city like Copenhagen which is currently hosting a major event on climate change and which appears to have a conference venue capable of housing the best part of 20000 delegates. Somehow I think the 'serious compromise' we're looking at is a good deal more critical than the council officials and politicians seem capable of comprehending.
Bread and circuses
But no, while the molehill of the EICC has at last been conquered to the City of Edinburgh Council's satisfaction if no-one else's, the good men and true in Market Street have been sticking their chins out with their latest vision for the Waterfront. We're not talking about new ideas of course – Edinburgh's politicians wouldn't recognise such a thing if it hit each of them squarely in the face – but the usual theft of a naff notion from somewhere else. This time they've decided that a version of the London Eye is just the thing for the Waterfront and will bring in the tourist bucks big-style. Forget that you can't easily get to the Waterfront and that the still-to-be-paid-for tram project isn't going to help too much in that regard; forget too that a riverside site where a big wheel gives you an overview of the whole of central London's roofscape is a good deal different from a windy waterfront that often has a cold haar sweeping across it; ignore, even, the fact that you can go up onto centrally-located Calton Hill and get a complete panorama of Edinburgh for free and without having to make the trip down to Leith. No the best bit of this "vision" is the absolute absence of any suggestion of cost or who will pay.
Remember, this is a city that is an unprecedented £90m in debt, has just borrowed £62m to bail out its wholly-owned property company, the EDI Group, and another £21m to fund a tram project that it doesn't yet have a scooby what the final bill for will turn out to be. In such circumstances would it be too much to ask what a 120m high ferris wheel (four times the height of the temporary Xmas one on Princes St) will cost? Ten years ago the 135m London Eye cost £20m so, to be up there with the big boys, we can be fairly sure Edinburgh will want to spend more, much more. The Council of course thinks that because the city's Zoo attracts 650k visitors per year this bright shiny object will encourage a similar number to whack on down to Leith to stump up the best part of twenty quid a skull to be slowly hoisted into the air.
The worst of all this, however, is that the people in charge of City Development – director Dave Anderson and councillor Tom Buchanan – see this as a vehicle to stimulate the regeneration of the Waterfront. No, let me correct myself - the lack of a real masterplan and intelligent long-term direction for the area is not the worst point of this story – the notion that the Council sees this as an important step in aiding the privately owned Forth Ports plc to deliver its own execrable ideas for the parts of the waterfront it has sovereignty over is. Where, please is the city's architectural profession in exposing this nonsense?
Developing a Doric spinal column
On a similar but unconnected note, I often wonder what the local architects do in Aberdeen, given the dearth of decent contemporary buildings in the Granite City. Certainly, they don't spend their time reading, otherwise they might have realised long before now what has been going on around Union Terrace Gardens. Suddenly, however, and apparently out of nowhere, a group representing some 20 small practices and calling itself the Aberdeen Architects Network has publicly piped up to the effect that the current plans for the area are 'fundamentally flawed.' Speaking on behalf of the Network to the city's ever fair and reliable Press & Journal, architect George Simpson stated "We would normally expect a feasibility study to look at a site and investigate all possibilities so you get the right result. I'm not opposed to development there, it's the nature of the development. We feel quite strongly that an architects' competition is the way forward."
All of which would be fine and dandy except for the fact that we've already had a competition for the site as well as a subsequent feasibility study for a completely different and unlikely-to-be-realised project promoted by local oil industry tycoon Sir Ian Wood. The latter scheme is currently stymieing the highly-realisable Brisac Gonzalez' proposals for new premises for the Peacock Visual Arts Centre but, instead of getting behind an excellent competition winner and seriously questioning the wisdom of the city council and the local enterprise company for effectively putting the project into limbo in the vain hope they'll find unimaginable sums of public money for a wholly facile alternative, the Aberdeen Architects Network has taken the bold and imaginative step of highlighting to all and sundry how completely behind the game its members are on this one.
Now I don't expect them to be regular Wrap readers and aware of all that I've written on this particular subject, but I am astonished by their manifest ignorance of the extensive coverage that has already appeared on this in their local press. If the Aberdeen Architects' Network is ever to develop any public or professional respect for its opinions and activities it needs to get off its collective knees and stand up to be counted. And in this instance, going vertical means making clear to the world that the Granite City's architects are against the anti-democratic and outrageous bullying tactics that have accompanied the Union Terrace Gardens proposals to date. C'mon guys – you can do it.
Punched and jabbed by the P&J
Still up north, the Antidonaldistas fighting on the beaches at Balmedie are finding their lack of effective ammunition worrying, so much so that dollies are being lobbed in the absence of hand grenades. I'm referring to the 'Tripping Up Trump' campaign which, having allowed itself to be laughably carved-up by the Press & Journal, is now screaming from its website (www.trippinguptrump.com) that it has been "viciously attacked." Good grief, if the architects of furrybootville need to develop some backbone, then the TuT's need to become a zillion times more inventive – nay, professional - in their use of guerrilla tactics if they're to succeed in their battle against the Menie Monster.
Let's face it, being rounded upon by Aberdeen's P&J is akin to Dennis Healey's famous aphorism that being attacked by Geoffrey Howe was like being worried by a dead sheep. Did the Tutties really think the local rag was going to take their side – give them equal press coverage even – when there was a development in the offing that could fill its advertising coffers for decades to come? Yes, the P&J's now publicly-stated position on Trumpton is an absolute travesty of the free press we like to believe exists in this country, but it's not exactly as if this paper hasn't got a whole lot of previous form on this kind of thing.
No, the Tutties will have to learn that stunts for the press are no substitute for tenacity and due legal process – unless of course they are able to deliver a more believable call-to-arms than they've evidenced so far. It's not even as if they have a sophisticated opponent to deal with – sure, he's got a lot of dosh to wave in front of a wheen of witless local mercenaries, but if the TuT's are going to make headway against him they really ought to ask Santa for a copy of Sun Tzu's 'Art of War.' There are, after all, serious issues at stake here that are likely to adversely affect democratic decision-making on planning and development proposals in Scotland for generations to come and the TuT's are allowing their arguments to be bogged down over whether or not they live in the immediate area. Time to wake up and smell the cordite – and to make sure it's coming from their own guns. If not, it looks like 'Triumph for Trumpton'.
And finally…
The headline said it all: "Bartlett School names Cruz as new director" and I immediately thought what a great wheeze it was to get the star of 'Vicky Christina Barcelona' and a host of Pedro Almodovar films to front up a UK school of architecture. Not only would it show real commitment to getting more women into the profession but it would surely also cause the applications for places on its courses to rise meteorically. Sadly though, it seems it's not Penelope that's heading for the London job but a Marcos Cruz who's not even her brother but who is a partner in marcosandmarjan architects (acronyms as practice names are now so passé, don't you know) and already a lecturer at the fashionable metropolitan education emporium.
It did get me thinking though about how anonymous the heads at Scotland's five schools of architecture are and the possibility of having some rather more charismatic leaders fronting the shops in their stead. Not celebs you understand – but real, top-notch stars with a bit of an interest in architecture. They don't even need to be Scottish, which - depending upon your perspective in our glass half-full/half-empty culture – either widens the field considerably or completely disguises the limited talent pool available. Brad Pitt, architect-manque, is an obvious candidate but probably unavailable (Visiting Professorship maybe?...) but maybe I'm off on the wrong tack here – in a week when 'World Architect of the Year' John McAslan has committed £50k of his practice's money to part-fund the RIBA/ICEBursary scheme for students to work on projects facilitated by the Clinton Global Initiative (CGI), you have to ask why this genuine star of our own has a professorship at Cardiff and not one at any of the institutions on his home turf?
Back to December 2009