Mirror, mirror on the wall who's the fairest wall of all?
December 17 2009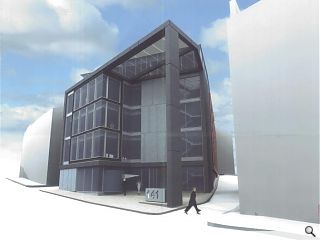 Michael Laird Architects have cooked up a novel riposte to oft voiced complaints of existing residents to new development in their area, that of restricted light and views.
Having reflected upon the dilemma the architects elected to proceed with a giant mirror upon the façade of their new office block on Morrison Street to reflect light and views back upon neighbouring properties.
Laird's quick thinking swayed planning officers' ruminations on the scheme, they were ultimately persuaded to give near unanimous approval.
No requirement has been placed upon the developer to regularly clean the mirror as the planning department are said to be too busy themselves to check upon it.
Amongst local objectors was Maureen Whyte who felt:" The proposed canopy and supporting pillar at the front of the building appears to constitute a wholly unnecessary and invasive addition."
Maria Kelly, Chair of the Dalry Colonies Residents' Association, commented: "… moving part of the front line of the building out to the street will confuse the existing street line." But added: "We have no attachment to the questionable design suitability of the existing building and we believe this application could be an opportunity to correct design errors of the recent past."
No-one from Michael Laird was available for comment but further details are available on the full
planning application
Back to December 2009