Peel vie to transform North West into a "super region"
December 15 2009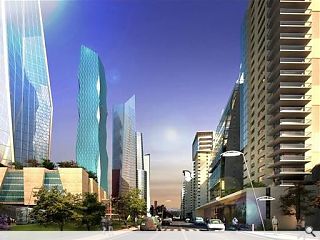 The largest planning application in UK history has been submitted by Peel Group on former industrial land at Birkenhead Docks, Merseyside.
Dubbed Wirral Waters by the property and transportation group the three years in gestation scheme could see a high rise, high density estate emerge, transplanting a slice of Dubai to the North West.
A host of architects have been drafted in to tackle the enormous site including Alford Hall Monaghan Morris, Falconer Chester Hall, Glenn Howells, HKR and Skidmore Owings Merill.
It forms part of a global vision from Peel to transform the North West into a "super region", competing internationally for business and tourism.
With the wheels having come off the speculation driven economy both at home and in Dubai however doubts exist as to the viability of the scheme emerging as currently envisioned.
Peel hope for a decision to be made by Wirral Council's planning committee in Spring 2010.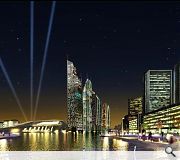 In scale this is unheard of in the UK, resembling something from the boom economies of the Far East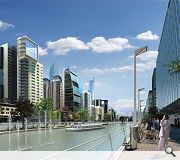 Patchy visuals released thus far are indicative only
Back to December 2009