Tripping up Trump trip up
December 15 2009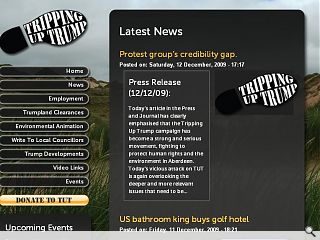 Aberdeen's Press & Journal has announced that it will no longer report upon the activities of protest group Tripping up Trump and their campaign to block plans for a massive golf course and housing estate.
Deeming the group unrepresentative of local interest the paper declared: "It has operated under a cloak of anonymity and cultivated the impression that it is composed of ordinary people concerned at the perceived damage the development would do to the coastline. Now we know differently."
The paper goes on to state that organisation and finance of the group is conducted "largely" outwith the north-east of Scotland which, they believe, renders the group unrepresentative of local opinion.
Further concerns were raised by alleged links to militant environmentalists, notably the Plane Stupid group stating: "There is more than a hint of suspicion that many of its members are those who will attach themselves to any green cause, regardless of its location and regardless of the wishes of the people it involves directly."
David Milne, who is involved in the TUT campaign and is refusing to sell his home to make way for the development retorted: "There is no requirement for anyone to be local to a development to protest against it. Sometimes distance helps and no one seems to be complaining that the developer is not local either.
"The spread of support for TUT just goes to remind people that this development is in fact a national disgrace and should be stopped at all costs because of the incredible damage this would have if it were to go ahead. No one, least of all myself, is anti development; what we are is anti bad development and that is exactly what this is."
Back to December 2009