RMJM see Quay project stall in Glasgow
|
Send to friend
October 5 2009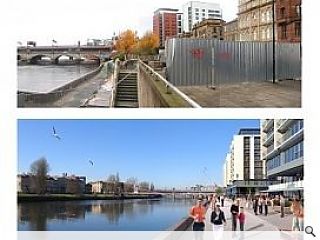 Custom House Quay is the latest scheme to fall foul of the economic downturn after project backer, Australian developer Rodney Price, declared bankruptcy.
Designed by RMJM back in 2004 the £200m proposals would have seen the creation of restaurants, shops, 400 flats and offices along Clyde Street, including a 24 storey tower to book end Buchanan Street.
No progress was made on site over these five years, despite winning council approval, but an alternative plan is now being pursued by Price's business partner and Glasgow City Council for twin hotels on the site to be developed by NM-UK.
GCC state that they are satisfied funding remains in place for this and both council and developer are keen: "to see the first phase of this project move forward".
However RMJM's European design director, Paul Stallan, said: "I don't see anything happening here in the near future".
Back to October 2009