Bennetts crown Stratford's Royal Shakespeare Theatre
|
Send to friend
October 5 2009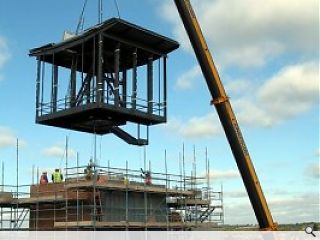 A landmark lantern has been hoisted into place on Bennetts Associates Royal Shakespeare Theatre in Stratford.
Rising to 32m the glass and steel viewing platform tops a Theatre Tower, the outer walls of which were built by hand at a three degree angle.
On descent visitors will be able to dine at a third floor rooftop restaurant with panoramic views across the river Avon.
Inspired by the original Memorial Theatre water tower, which burnt down in 1926, the new structure has been designed to reflect this lost heritage whilst providing lift and stairwell access to the theatre.
Simon Erridge, Director of Bennetts Associates, said: "It was an exciting moment for the whole team and the result of a great collaborative effort. The size of the crowd that formed in the street below made the whole operation a piece of theatre in its own right!"
Companies involved in the construction of the Theatre Tower and lifting of the Theatre Tower 'lantern' include Buro Happold and Gardiner and Theobold.
Images provided courtesy RSC/ Stewart Hemley.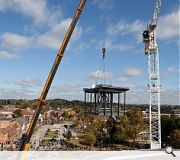 Back to October 2009