Koolhaas designs latest Maggie's Centre
|
Send to friend
October 5 2009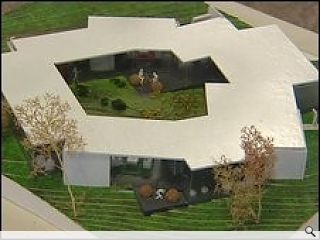 Rem Koolhaas, founder of the Office of Metropolitan Architecture (OMA), is to make his first foray into Glasgow with the city's second Maggie's Centre in the grounds of the Beatson Oncology Centre at Gartnavel Hospital.
Planning permission has been secured for the angular doughnut shaped pavilion which wraps around a central garden feature. It will be the city's second such centre and the UK's third Koolhaas design after the Rothschild building and a temporary Serpentine pavilion, both in London.
Koolhaas joins an illustrious list of architects to have designed spaces for the centre including Zaha Hadid, Richard Rogers and Frank Gehry.
Richard Hollington, Associate at OMA, said: "We spent quite some time evaluating existing Maggie's Centres before coming up with the final design, which we believe encapsulates the philosophy and principles on which the Maggie's Centres are based. We have created a building, which has a holistic, intimate and comforting feel. We hope that our building design will greatly complement the fantastic support that people affected by cancer will receive when visiting the Centre."
Construction work should commence in January 2010 on the £2.1m, financed by a donation from Walk the walk Worldwide, for an expected opening in early 2011.
Back to October 2009