Campaign board shelter wins prize
September 15 2009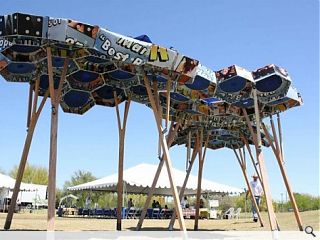 The Architectural Association School is showcasing the work of eight architectural projects which demonstrate innovative integration of design and fabrication processes at the London Design Festival.
This follows the Designing Fabrication Awards which covered exterior and interior categories in attempting to elicit the most pioneering use of emerging digital technologies in the design and fabrication process.
Winner of the exterior category was 'Re-Purpose Ply' by Jason Griffiths, a shelter made from re-used US political campaign boards.
An exhibition of the work will go on display at Village Underground Art Space from 21 – 26 September.
Back to September 2009