Holmes unveil Waddington Building
September 15 2009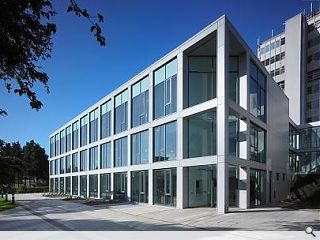 A new Centre for Systems Biology on the University of Edinburgh's King's Campus has opened its doors to staff and students.
Designed by Holmes the project benefits from an abundance of natural light from floor to ceiling glazing. Highly insulated and constructed to minimise thermal bridging and air permeability the building has been designed to be energy efficient.
Interface with the adjacent Rutherford building proved was a key element of the brief and was achieved via a central circulation route divides the premises between two zones, laboratories and offices and also serves to provide break out spaces for socialising staff.
Low slung massing and a simple grid fenestration help to bed the Waddington building within its campus.
Back to September 2009