Cash for Gold leaves residents cold
|
Send to friend
June 10 2009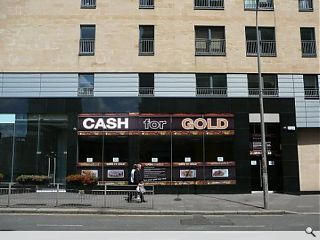 Providing new meaning to the term streets paved with gold one alchemic Glasgow retailer is looking to transform gold to cash and send property prices down like lead with the cities latest pawn broking venture.
Residents of the Merchant Building, city centre apartments from Alba Town, were doubtless anticipating the latest trendy wine bar, hip restaurant or chic coffee house but will instead be spluttering into their Nescafe as the dealer sets up shop.
Securing tenants is a tough ask against a reported rise in the volume of derelict storefronts along Glasgow's rusting "Golden Z" with Buchanan Street, Sauchiehall Street and Argyle Street experiencing vacancy rates of up to 18%.
Amongst a litany of credit crunch casualties are Woolworths, Miss Sixty, Foot Locker, Au Naturale and the Early Learning Centre.
Bucking this trend to decay are an ever increasing proliferation of sandwich delis with Subway continuing to expand and the cities first Quiznos opening on Union Street.
Back to June 2009