Four towns to the fore
May 1 2009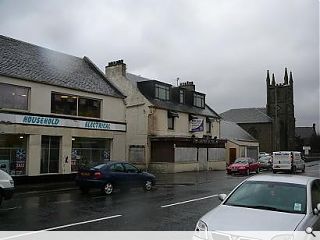 An idealised vision of what could take place in the four towns of Mauchline, Auchinleck, Cumnock and New Cumnock is being outlined by the Prince's Foundation at a week long "Enquiry by Design" event.
Sidestepping the usual constraints of land ownership, finance and planning approval the Foundation have come up with a series of ambitions for the Ayrshire quartet in a bid to transform the ailing district into a regional powerhouse.
Focusing on jobs, economy, tourism and education nothing was considered off limits in a bid to stem the flow of young people to Glasgow. To do this biro's were armed and readied for a frenzy of map despoilation in a bid to decipher the complex web of interwoven employment patterns, opportunities, transport corridors, green spaces, housing and general points of interest.
Cumnock
Cumnock falls a perky second to Kilmarnock in retailing clout and is by far the largest settlement in the local conurbation, despite a local shopping centre described as "poor". Plans exist however to redevelop this with council offices first and retail for seconds, but this was felt to be "unfortunate" when both were urgently needed.
Cumnock's retail crown instead rested upon the ubiquitous corporate shoulders of TESCO, its gravitational pull upon shoppers was not properly reflected in any meaningful status as a regional centre however, felt crucial to the towns revival.
A new business centre was promulgated for a non-descript warehouse district. The town bypass was cited as helping people to leave but in order to draw people in essential improvements to pedestrian movement around the church and vehicular flows at a pinchpoint on the bridge were highlighted.
Additional floated ideas included extending links to new areas, permeability, housing and smaller start up businesses that reduce dependence on singular industries.
When queried over the construction of the new settlement of Knockroon and its likely impact on Cumnock advisers pointed out that increased housing provision would boost demand for local shops and services and enhance a deprived corner of town rather than deflect investment from the town proper.
New Cumnock
New Cumnock was felt to have the strongest communities despite or perhaps because of witnessing the greatest decline. A 1950's mining estate is receding and the community were retreating with it back to the historic high street which is itself troubled by dereliction, decay, lack of amenity and the presence of a major trunk road with associated HGV's.
Re-design efforts focussed on the castle and Afton St to consolidate derelict land and define and strengthen the existing streets "missing teeth". Community focus would be provided around the church and community hall by creating a square denoted by distinctive asphalt at the key point.
Mauchline
Mauchline's liveability was considered high but this disguised real deficiencies in shopfronts, signage, pavements and hard landscape. As the urban planner put it: "If Mauchline had tourist ambitions, it is going in the opposite direction." Skips and recycling bins disfigured the perimeter of the town in a wilderness with no clear footpaths or signage from car parks to the town centre, visitors are left with no idea of where to go or indeed what spaces and assets await them.
Lack of public toilet provision was commented upon in evidence and the Foundation representative reported "conflicting advice on the quality of teas and lunch." There was not a single vacant shop in the town, thought to be Scotland's largest where such is the case but there remain infill and gap sites requiring attention along with a burn which could be transformed into a green corridor.
A notorious bottleneck at the cross aroused some passion with many in favour of a proposed bypass, though planned it is not contained within the Scottish Government's latest transport review, placing it on the backburner for some 15 years. Revised government policy toward traffic management which now places greater emphasis on streets and places may also put the kibosh on the scheme.
This opens the door for a "Plan B" of re-routing traffic through a number of secondary diversionary roads to allow frustrated travelers to circumnavigate any potential jams and the inclusion of a second set of lights to better manage the ebb and tide of vehicular flow and "capture the people who don't know they want to visit the town."
Less controversial was the need for a new train station, particularly one that could facilitate passenger traffic on the Ayr branch in addition to Kilmarnock. Presently only the latter is possible.
Auchinleck
Auchinleck's main asset is its train station which should have frequencies increased to one an hour from one every two hours. The town square was felt to be neglected with uncomfortably narrow pavements but surrounding ancient woodlands which dot the landscape could be utilised for leisure pursuits.
Direct competition with Cumnock could prompt TESCO to abandon Auchinleck for its bigger brother, leaving a smaller more central Metro outlet and fueling local rivalries. TESCO would present a prime site which could become a garden centre, a key hub for Dumfries House or a Burns interpretation centre.
Back to May 2009