Sleeping Lion Chambers may yet roar
|
Send to friend
March 9 2009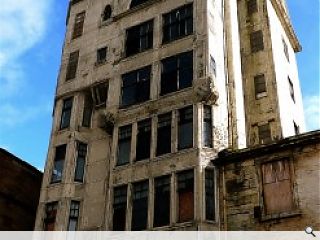 Lion Chambers on Hope Street, Glasgow, must rank as one of the turn of the century's greatest architectural confections. A prototypical skyscraper of singularly eclectic taste built, house of cards style, with audaciously experimental engineering.

Designed by Salmon & Gillespie in 1907, the startlingly modernist concrete exterior bridges that rare architectural schism between utilitarianism and the flamboyance of past eras.

Dressed and meshed in a complex web of chick wire the current facade is far removed from distant Edwardian glamour, despite such visual incongruities however the structure elicits much passion from enthusiasts. After all there are precious few buildings of the modern age worthy of a photographical detour, still less of such rare oddity as this.

One architecturescotland forum member memorably articulated this unorthodox presence: "If I were pitching it as a movie project I'd say it was like the cliff-like flanks of Mackintosh's School of Art meets the Scottish tower house as lived in by the Munsters."

Contrary to appearances Lion Chambers remains structurally sound and hope for the eponymous streets most forlorn resident is not yet fully extinguished. Mike Fraser of Development and Regeneration Services evinced a hope that a suitably altruistic development partner can be brought on board: "We potentially have an interested party right now to pursue a positive outcome."

Lion Chambers has witnessed a century of decline and progress from its lofty, irregularly bayed windows. Whichever of these eventualities will triumph in the next hangs as yet in the balance.

Images courtesy solidred.
Back to March 2009