IN LAND inbound at Schop
|
Send to friend
March 10 2009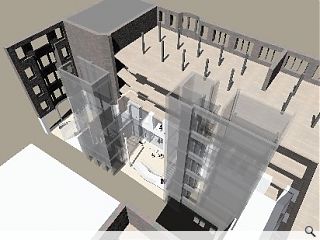 Artist Donald Urquhart is well versed in the disciplines of drawing and painting, diversifying these core skills in recent years with commissions in both landscape and architectural contexts.
At the heart of Urquharts work is an appreciation of landscape and the need to respond to it. Work said to be characterised as being: "reductive and highly formal, yet always seeking to engage the viewer in a quiet and poetic dialogue."
The 'IN LAND' exhibition at Schop features five 'Line Sky' drawings and two gallery specific pieces, namely: 'Double Displacement: Lewis' and 'Balance: Harris'. Much of Urquhart's recent work has taken the form of permanent site-specific installations in which he has responded to a wide variety of landscapes.
These commissioned works include An Turas on the Isle of Tiree (2003) and Endpoints: Coal/Sand to mark either end of the River Ayr Way (2007).
Urquhart is currently integrating a series of artworks in various Glasgow projects including the new Stobhill Hospital, a new arts complex called Trongate 103 and the new Gartnavel Royal Hospital.
Further information is available at
www.schop.org.uk
Back to March 2009