Purcell Miller Tritton strike out
|
Send to friend
March 9 2009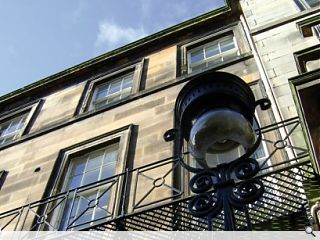 Purcell Miller Tritton are cocking a snook at the national air of pessimism by pressing ahead with a new Edinburgh base.
An impressive champagne reception at Edinburgh's New Club, a very deliberate choice of venue, welcomed guests through an Alice in Wonderland style cubby hole to an aladdins cave of antiques and marble sporting dramatic panoramic views to Edinburgh Castle.
Jonathan Gotelee, Associate of the new venture, has spent five years running his own practice before combining it with Purcell Miller Tritton to form the latters nascent Caledonian base.
Gotelee was keen to use the venue as illustration of the practice's intention to tackle some of the Capital's unloved modernist structures, rehabilitating them in a new energy and cost conscious environment.
The practice specialise in creative conservation and strategic planning and hope to bring this expertise to bear within a local context.
Purcell Miller Tritton's Rutland Square outpost will initially comprise some five members with the expectation that this will grow to around 10-15 once the group get into full flow.
Back to March 2009