Ednam expansion to deliver 12 Borders homes
March 21 2023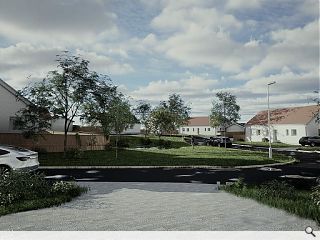 LBA has drafted plans for 12 homes off Poppleburn Park at Ednam in the Scottish Borders.
Working with a local developer on land at West Mill the architects propose to build out a 1.3-hectare field on the edge of the village, extending an existing cul-de-sac to form a new loop access road.
Four house-types from timber frame home specialist Dan-Wood have been chosen for the development with LBA reviewing the materials, roof pitch and composition.
In a design statement, LBA wrote: "The site benefits from uninterrupted views across agricultural fields to the North & West. Furthermore the South Eastern corner benefits from beautiful views of the rear of the village church and graveyard, a B-listed property and one of only two listed buildings in Ednam."
Materials include a mix of cement roof tiles, render and horizontal larch timber cladding. A community SUDS pool sits on a central island, landscaped to serve as a shared outdoor space.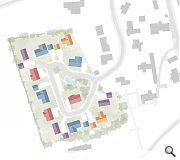 Access will be routed from Poppleburn Park
Back to March 2023