Student housing to take the place of dropped Glasgow apartments
March 21 2023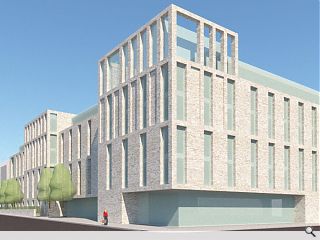 Alumno is to host a drop-in session outlining their proposals to erect student accommodation at the corner of St George's Road and Grant Street in Glasgow City Centre.
The pre-application event will take place on Thursday between 14:00 and 19:00 at the Mitchell Library, during which Barton Willmore will set out their vision.
Replacing a Page/Park apartment scheme, dropped after site clearance when the previous owners sold the land on, the current proposals build on the approved massing.
In a statement, Alumno wrote: "It is important to note that planning permission and conservation area consent was granted relatively recently (March 2019) for a major residential development on this site...
"Unfortunately that development, whilst progressing to the demolition of the previous car showroom buildings on the site did not progress to development and the previous owners have opted to sell the site instead."
A planning application is expected later in the spring.
Back to March 2023