Aberdeen apartments drop colour for monochrome design
March 20 2023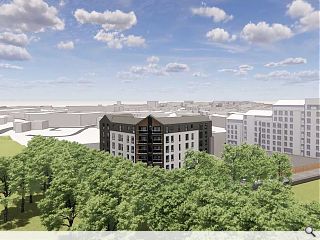 Tinto Architecture has returned with revamped proposals for new housing and amenity space on the site of a light haulage yard at 56 Park Road, Aberdeen.
Throwing out plans for 30 flats with projecting coloured balconies the architects now propose 29 apartments, furthering the general transition from industrial to residential use in the Beach area.
Once again taking the form of a six-storey L-plan block the brick and grey render build hides parking in an undercroft with every home having access to an outdoor balcony.
In their design statement, Tinto observed: "The use of traditional pitched roofs creates a visual harmony with the neighbouring development and traditional tenements in the area, whilst breaking up the massing of the building. The material choice of a contemporary palette of dark and light materials additionally helps break the visual mass of the building."
A major change is the introduction of traditional pitched roofs finished in dark zinc with timber cladding to northeast balconies replacing colourful pressed metal.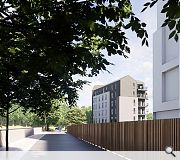 Existing tree-lined access to Park Road will be upgraded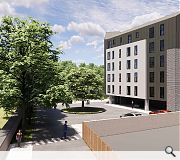 Parking will be provided in an undercroft area
Back to March 2023