Projecting balconies bring colour to an Aberdeen apartment block
September 2 2022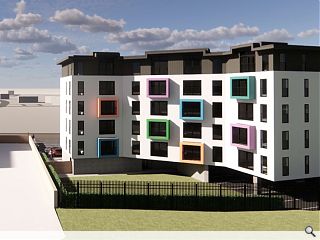 Tinto Architecture has proposed a new build development of 30 apartments for land off 56 Park Road, Aberdeen. Accessible from a tree-lined avenue the site is currently occupied by a light haulage firm and neighbours a recent apartment block built by Barratt.
A six-storey L-plan building is proposed, enclosing a private amenity space to the south and facing a turning circle and car park to the north. Parking provision will also be provided in an undercroft area.
Utilising facing brick to the ground floor the white render block will bring some colour to the area with projecting pressed metal balconies to favoured apartments.
In a design statement Tinto wrote: "The projecting box-like balconies featuring four colours: orange, blue, purple and green are an integral part of the building creating a stimulating façade with multiple points of interest. The colours are randomly organised and contrasting with the light façade."
Secondary footpath access to Broad Hill and the beach will be provided for residents.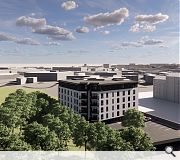 The homes will stand to the northeast of Aberdeen city centre, within walking distance of the beach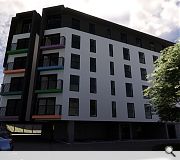 The top floor will be finished in standing seam zinc
Back to September 2022