Trongate tower transitions from apart-hotel to students
March 15 2023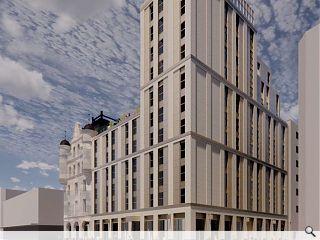 Caledon Property Group have revisited consented plans for an apart-hotel on Glasgow's Trongate, switching out short stay spaces for purpose built student accommodation (PBSA).
Revised plans by Mosaic Architecture + Design, based on the original submission, show a new internal layout to accommodate the change in use with the outward massing remaining as before.
This would permit 173 student flats to be built on the site of a former bank and the Oriental Bar. Rising through 11 storeys the tower would house a café, amenities and reception at its base with external amenity also provided on upper floors. A baasement meanwhile will house music rooms, a games area and places for private study.
In a design statement Mosaic wrote: "…the new PBSA proposal will show new pertinent materials to re-define its character and presence: the facing brick will be applied to the main massing components to provide strong edges and a prominent urban marker and the basecourse of the building will be treated with pink granite to match with the adjacent listed building and to provide a robust hard wearing finish at street level."
Brass coloured aluminium cladding panels will be used as a secondary facing material to the primary oatmeal brick.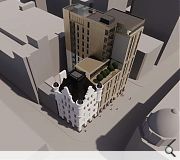 An upper floor will be formed from brass aluminium curtain wall glazing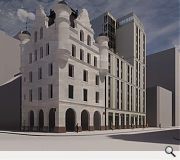 The tower seeks to complement an adjoining A-listed building
Back to March 2023