MAST Architects come out in favour of Wyndford demolition
February 16 2023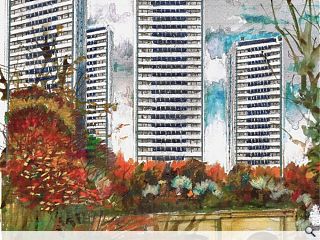 A new study of Glasgow's Wyndford estate commissioned by Wheatley Homes has seen MAST Architects throw their weight behind voices arguing that demolition is necessary.
The latest report found that the 600 properties targeted for demolition are not fit for purpose, as they fail to meet minimum space standards. Comprising 200 bedsits and 400 small one-bed apartments the homes are considered unsuitable for retrofitting owing to the use of thick concrete walls.
MAST Architects director Michael Jarvis wrote: "The space standards of the apartments are very poor, with the bedsit apartments only 38m². The one-bedroom apartments are 47m², which is approximately 5-8m² smaller than the average new-build one-bedroom apartment.
"Living space is also very limited with the combined living and kitchen area of the one-bedroom apartment 4m² smaller than the minimum required."
Jarvis also takes issue with comparisons to the recently renovated Cedar Court in Woodside, arguing that structural differences make them a poor template to follow. He adds: "You need to compare apples with apples, which these two are not. Cedar Court is made up of family-style housing called maisonettes. They are all two-bedroom properties, with their own private balcony, compared to the cramped one-bedroom and sub-standard studio properties at Wyndford.
"The properties at Cedar Court were not structurally modified and the units are far more generous and spacious to meet the space standards."
Arriving hot on the heels of a Historic Environment Scotland report rejecting a listing request the report also highlights issues around lack of light from overshadowing, a lack of privacy from shared balconies and poor wifi and mobile reception.
Wheatley is progressing with a £73m regeneration of the Wyndford that will include the delivery of 300 family-friendly homes, although the precise amount which will be affordable is still in question. In addition, Urban Realm understands no architect has yet been engaged on the replacement homes, despite demolition being scheduled for April.
Back to February 2023