HES rule against late listing bid for Maryhill's Wyndford estate
February 1 2023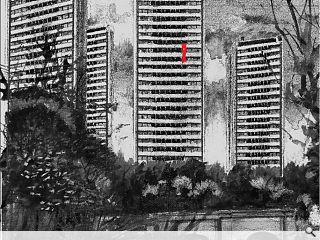 Historic Environment Scotland (HES) has rejected a request to list four tower blocks at Wyndford Road, Maryhill, arguing that the buildings do not meet its definition of architectural and historic interest.
A debate has been raging around the future of the estate, built between 1965-69 to designs by Harold Ernest Buteux, chief technical officer of the Scottish Special Housing Association.
Opponents of demolition, including Wyndford Residents Union, had pinned their hopes on the heritage body to intervening decisively but in its latest appraisal the body found that later alterations had undermined the authenticity of the structures.
Dashing hopes of a late listing HES, despite precursor organisation Historic Scotland having previously found that the historic estate, set within the grounds of a former army barracks, 'was of some note', found against arguments for its architectural distinctiveness.
In its heritage report HES wrote: "Public housing tower blocks are not a rare building type in Scotland with just over 850 built across the country. The earliest and/or most architecturally innovative examples that survive relatively complete, may however be of interest for listing.
"There are few listed examples in Scotland (nine as of 2023) and include Cables Wynd and Linksview in Edinburgh (1963, LB52403), and Anniesland, Glasgow (1966, LB43034). These are of a bespoke design, tailored specifically to their site and are relatively little altered. In Aberdeen, there are five listed multi-storeys that were designed as a group: schemes at Gilcomstoun, Gallowgate and Castlehill are among the earliest Brutalist blocks of flats in Scotland, planned as early as 1959 (LB52522, LB52523 and LB52524). These examples are among very few surviving examples of blocks of flats that are innovative in design and are architecturally exceptional in contrast to the hundreds of standard system-built blocks that were constructed from the 1950s to the late 1970s.
"The 26-storey tower blocks at Wyndford are not generic in terms of their design but they are not early or innovative examples of the building type, and their original character has been lessened by a series of alterations to the fabric."
The demolition contract to bring all the towers down is due to be activated by April following the full rehousing of all tenants in March.
Drawing provided by Alan Dunlop
Back to February 2023