Jupiter Artland turns to the future with a dedicated orientation hub
February 16 2023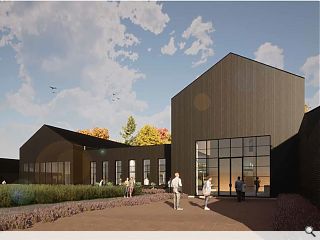 Jupiter Artland, a 120-acre sculpture park on the outskirts of Edinburgh, is ushering in a new stage of development with a purpose-built gallery and 'art distillery'.
As part of a diversification strategy, the initiative will include a visitor centre, cafe and shop housed within a single building designed by organic Architects, who will work with artists to integrate their work within the structure.
1.8 hectares of designated agricultural land has been chosen for the orientation building, close to Bonnington House, which will take the form of four agricultural-style charred timber sheds.
In a design statement, the applicant wrote: "This building will form a new focal point and become a central visitor building for Jupiter Artland.It will become the de facto entrance and orientation building, the initial introduction to Jupiter Artland.
"A feature wall of terracotta Roman-style brick with a single arched doorway faces visitors on arrival to the reception. The grand reception space creates a sense of awe and grandeur on arrival."
Andrea Wise from Organic Architects adds: "This gallery is a nationally important new arts venue for Scotland. It allows Jupiter to host a wider range of exhibitions in a bespoke building which also increases the amenities for visitors. There will be a new café space and small shop which replaces facilities already at Jupiter Artland.
"The craft distillery will be installed within the art space; the vision is for sculptures and artworks to be integrated within what has traditionally been seen as an industrial building type."
Adorned by commissioned art suspended from the ceiling minimalist interior spaces, something that will be carried forward into the micro-distillery which will produce branded vodka and whisky.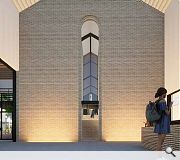 A feature terracotta wall will wow visitors upon arrival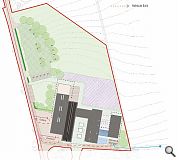 A landscape plan by TGP will mitigate intrusion of the new facilities as far as possible
Back to February 2023