Mews infill to restore order to a forgotten Edinburgh lane
February 15 2023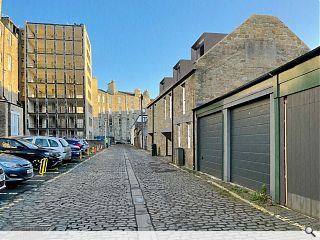 A spate of mews housing development on Melville Street Lane, Edinburgh, continues apace with a fresh bid to convert an existing property, currently in use as a small office, for residential use.
Gray MacPherson Architects propose to partially demolish and alter the current building, while simultaneously delivering a new build mews home on an existing car park. These works will extend the existing property to permit the inclusion of three flats by removing the mansard roof and pushing the rear elevation back by 1.2m to permit a wider plan.
Outlining the latest approach the architects wrote: "The height of the building will be slightly increased to the level of the existing stone lintels to the eyebrow dormers on the front elevation. This will provide two-and-a-half-storey residential accommodation ancillary to number 25 Melville Street, which is currently undergoing extensive office refurbishment.
"To keep the scale of the development down the top floor is an open gallery bedroom open to the first floor below. The gable and roof have also been flattened off to reduce the ridge height. The dormers have been reduced in size again to alleviate concerns of scale. These will be clad in zinc while the main roofs will be slated.
"The raising of the wall head to the level of the existing stone eyebrow dormer windows will be infilled with stone. This should allay concerns over the design as the original application proposed zinc."
The latest application comes after prior bids to develop the site were thrown out on the grounds of design, scale and materials, prompting moves to scale back the massing and adopt a traditional materials palette.
The project sits to the rear of a new hotel being carved out of the husk of the former Meldrum House.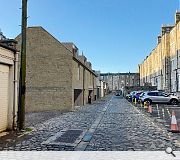 The works promise to revitalise the 'tatty' back lane
Back to February 2023