Meet the Scottish Design Awards 2023 panel
February 15 2023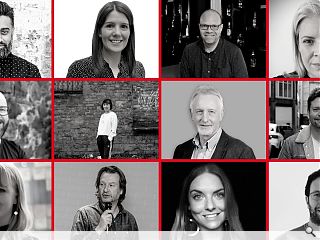 Leading figures from across the architecture and design professions have stepped up to the plate for the 2023 Scottish Design Awards.
The dozen-strong line-up includes figures drawn from the construction and marketing sectors from the agency world to practices, client-side and academia. With the entry window already open the hand-picked team are on hand to offer some helpful tips and advice for early bird hopefuls by setting out what they are looking for from award-worthy work.
On the architecture front, this includes Heather Claridge, director of design at Architecture & Design Scotland, who will be seeking projects which 'successfully respond to local context and needs'. Claridge said: "In particular, I'm interested to see projects which successfully respond to local context and needs, creatively reuse existing assets and support a strong sense of place across all of the architecture categories."
Fellow judge Andy Summers, co-founder of Architecture Fringe, added: "Across the categories, one of the principal things I'll be interested in is aspiration and ambition. Each project has its remit and budgetary context, but the intentions within the work and how these are realised is, for me, an important aspect to consider."
Alistair Scott, a co-founder of Smith Scott Mullan Architects, meanwhile will be pushing for projects which address emerging architectural, environmental and social issues such as 'people-centred design', 20-minute neighbourhoods and a fabric-first energy approach. Laying down the gauntlet to entrants Scott said: "What challenges were the client and designers facing? Did they make that 'silk purse out of a sow's ear'? What will the building 'feel like' to be in? Things like views out, sunlight and comfortable acoustic characteristics. Does it comfort you, inspire you or even scare you!"
Entries are now open for the event, with early birds enjoying discounted rates until 10 March.
The Scottish Design Awards is supported by Urban Realm, The DRUM, Nordan, Vision Events Glasgow, Porcelanosa Scotland and Rock Rose.
Architecture Panel:
Heather Claridge, director of design, Architecture & Design Scotland
John Glenday, publisher, Urban Realm
Akiko Kobayashi, founder Akiko Kobayashi
Shelley McNulty, head of design, Manchester School of Art and partner at McNulty Architecture & Design
Alistair Scott, co-founder, Smith Scott Mullan Associates
Andy Summers, co-founder Architecture Fringe
Back to February 2023