Contentious Strathbungo flats recommended for approval
February 15 2023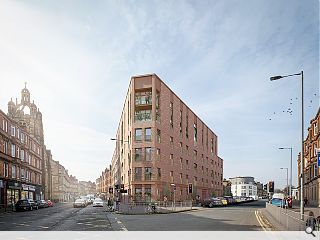 A contentious apartment block in Strathbungo has been conditionally recommended for approval following negotiations with AS Homes and their architect, Keppie Design.
Tackling issues concerning scale, precedent and design head-on Glasgow's planning application committee dismissed numerous letters of objection.
Initially weighing in at seven storeys the project has been trimmed to six in greater deference to low rise neighbours. Further efforts have also been made to reduce the proportion of blank facade by increasing the number of window openings on Nithsdale Drive.
Another area of controversy centred on the lack of commercial units along Pollokshaws Road, with this space given over to street level flats. Addressing this issue directly the committee wrote: "... the privacy for ground floor flats along Pollokshaws Road is maintained by the internal floor level being raised above the footway and providing the Juliet balcony railings. Residents would not require to keep curtains or blinds closed for privacy.
"The Pollokshaws Road elevation is activated by windows to habitable rooms, entrances and where the internal space is occupied by plant or cycle storage, a perforated brick panel is used to prevent the street level appearing as a solid 'bland' mass."
Numerous conditions are attached to the decision, including a stipulation that daytime noise levels (with windows closed) do not exceed 45 decibels.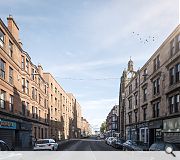 Red tinted concrete is used to feature the first and upper floors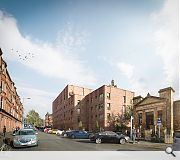 Thneproportion of glazing has been increased along Nithsdale Drive to reduce the area of blank facade
Back to February 2023