Critics step up objections to Buchanan Galleries replacement
January 23 2023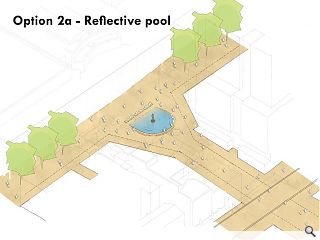 Indicative proposals to remodel Glasgow's Buchanan Galleries have stirred passions, principally concerning plans to remove a cascade of steps to the Royal Concert Hall on accessibility grounds.
Early plans call for a major remodel of the entrance space, which has become a popular meeting spot and hang-out point, to facilitate the extension of Sauchiehall Street eastward.
Options under appraisal by the Buchanan Galleries team include establishing a stepped or flush platform around the retained Donald Dewar statue, or even setting it within a reflection pond. This reordered entrance arrangement would permit events and concerts to be held at street level.
In a statement outlining the need for change the design team wrote: "Remodelling the space in front of the Concert Hall would make the new area we envisage accessible to all and reinforce our strategy of opening up views into the site to overcome the visual block as well as the physical block to movement through and across the site."
Arguing against any such intervention professor Alan Dunlop wrote: "... the steps are now a very important civic amenity, much used by the people of Glasgow and are an important part of the city's urban realm.
"I've no doubt the steps were also a fundamental part of Sir Leslie Martin's plans (architect of the concert hall), for they heighten the visitors sense of moving up from 'ordinary' street and the ground level into an 'special' and important building, as many great concert and opera house buildings do throughout the world, in the classical tradition.
"So, I would absolutely disagree that the steps are a problem, in fact they are one of the best contemporary additions to the city centre. The 'accessibility challenge' of the blocking of the extension may mean that they are a problem for the developer to deliver what they want for their own project."
Mall owner Landsec stresses that at this point no firm decision has been taken on the future of the steps, with the latest design ideas to be presented masterplan architect Foster & Partners on Thursday.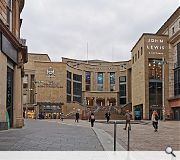 Time may soon be called on this popular city centre meeting point
Back to January 2023