Apartment drive positions The Calton as an urban neighbourhood
January 20 2023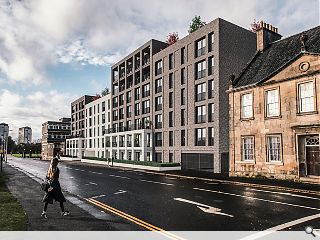 Detailed proposals have emerged for a historic address in the Calton district of Glasgow, rebuilding the street wall along Charlotte Street.
Following earlier consultations Haus Collective have returned with plans for 65 apartments on behalf of Surplus Property Solutions, replacing disused offices with a seven-storey residential block combining private and communal roof terraces.
Responding to two neighbouring A-listed buildings of contrasting vintages the proposal comprises a single T-plan structure arranged around a southwest-facing elevated landscaped grounds.
An entrance fence and gate referencing the stair balustrade of the Gillespie Kidd & Coia building. A stepped roofline with projecting and recessed balconies soften the massing with a mix of dark and light brick and stone adding to the visual variety.
In their design response, Haus wrote: "Our proposals for Charlotte Street have evolved acknowledging the increasing density of the urban environment and the importance of responding to this at a human scale."
Emphasising the formation of a neighbourhood the plans include communal post boxes to increase social interaction, fixed seating in access areas and consideration for passive supervision of external amenities.
Project team
Architect HAUS
Planning Consultant Iceni
Civil & Structural Goodson Associates
Mechanical & Electrical KJ Tait
Landscape Architect Oobe
Transport Consultant Goodson Associates
CGI Imagery Visual Lane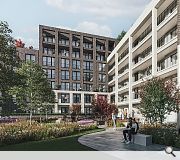 All gallery access apartments have views towards the central courtyard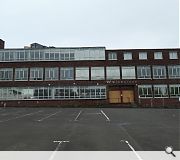 An empty office building will be demolished under the plans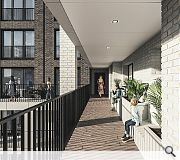 Fixed seating is provided along the recessed portion of the elevation
Back to January 2023