Apartments lined up for historic Calton address
October 12 2021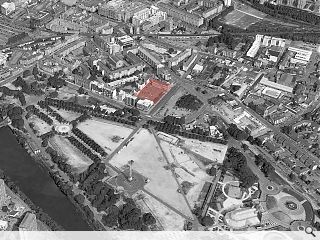 A public consultation has opened over plans to develop a 0.35ha car park at 72 Charlotte Street, Glasgow, for residential use.
Bounded by two A-listed buildings, one by Gillespie Kidd & Coia (GKC) the other (likely) by Robert Adam, the site backs onto Austin Smith Lord's Homes for the Future development, with a 9m offset respecting these neighbours.
Proposals call for an existing building to be demolished, making way for a new build of up to seven floors wrapped by inset or projecting balconies with further amenity provided by a roof terrace on an adjoining four-storey element.
In a consultation statement Haus Collective wrote: "To the street front, the developable area is set back to align with the gable of the Grade A listed villa.
"To enhance the setting of the listed building, the mass is carved to push the building line beyond the line of the GKC building to ensure the elevational treatment of the GKC building can be appreciated from all sides. This provides an opportunity for an amenity space that will benefit from daylight all year round which is overlooked by the proposed dwelling, improving visual amenity."
An online consultation will run through to 8 November ahead of a formal planning application.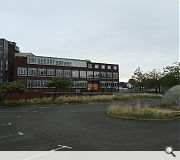 An unlisted brick property formerly home to the Wise Group will be demolished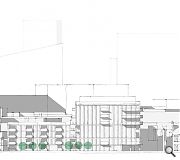 New additions to the street will establish a discourse with the roof of the A-listed GKC building
Back to October 2021