Planning row spells ruin for Gorebridge home
January 12 2023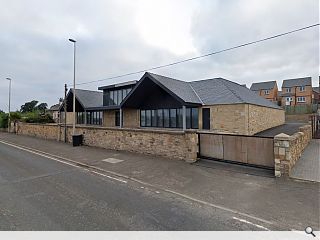 A planning row in Gorebridge, Midlothian, could see a newly built home demolished over a projecting roofline thought to be detrimental to the character of the town.
Midlothian Council initially refused consent to David and Dawn Allan in 2017, arguing that the design by Liston Architects was neither traditional nor a sufficiently high-quality contemporary design.
This was subsequently overturned by a follow-up application in 2018, swapping white render for stone and a timber and glass screen. The home was duly built in 2020 only for the owners to discover that a building warrant had been issued in error by the council.
Outlining the situation in an appeal to the Scottish Government Dawn Allan wrote: "In 2019 I was issued with a building warrant and a letter to confirm I could proceed with the construction. My builders built the house according to this warrant plan with a few changes made along the way for which we submitted retrospective planning.
"It was discovered during this application that the building warrant was granted in error by Midlothian Council as the planning had not in fact been granted to accompany it. This was only discovered once the house was built in 2020."
Midlothian Council has now served an enforcement notice on the property as the building does not comply with the approved plans. The owners now have until 20 April to make the required changes or else demolish the building by 20 June.
Back to January 2023