Whitecraig primary school cleared for construction
January 11 2023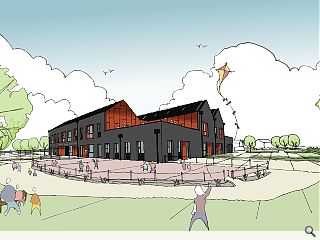 East Lothian Council has cleared a new primary school in the rapidly growing village of Whitecraig to commence construction this summer in response to a rising school-age population.
The project will see the current 1959 building replaced to boost capacity together with upgrades to Whitecraig Road to cope with increased traffic. Landscaped spaces around the new school are designed to improve pedestrian and cyclist safety with a dedicated community entrance provided to the northeast.
Built on land adjacent to the current school the new building combines eight classrooms with an integrated early learning facility behind a facade of charcoal grey brick and copper cladding.
In their design statement, the authority wrote: "The approach taken to materiality is to create a simple, elegant yet bold building which embodies a strong sense of identity; a robust, durable building acting as a focal point within a central location of the expanded Whitecraig community."
Upon completion of the new school in 2025 the old building will be demolished.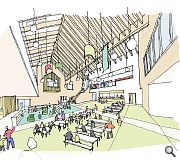 A full height arrivals hall will greet future occupants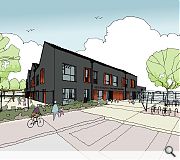 Graphite coloured brick and copper panels have been chosen for a distinctive aesthetic
Back to January 2023