Housebuilders 'village' concept rises to national attention
November 22 2022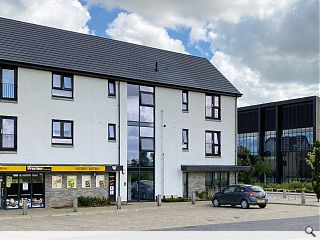 A housebuilder has earned recognition for its adoption of a 'village' housing concept which emphasises amenities, the public realm and low-energy homes.
Embraced at Bertha Park in Perth the approach will guide the delivery of 3,000 mixed-tenure homes on an 823-acre site that also includes cafes, shops, allotments, an orchard and schools.
All homes come equipped with electric car charging points and the development encompasses a loch, woodland and parkland. To help foster a sense of belonging a community engagement officer is on hand to help organise seasonal events.
Springfield chief executive, Innes Smith, said: "We endeavour to create sustainable places for people to live, deliver energy efficient homes that are cost effective to run, engage with the communities to enhance our social impact while regularly reviewing our internal practices to mitigate our impact on the environment."
Bertha Park follows the completion of a similar development at Dykes of Gray in Dundee which adopts a similar approach with public art, green corridors and a commercial centre overlooking an amphitheatre.
Both projects were recognised at the WhatHouse? Awards in London.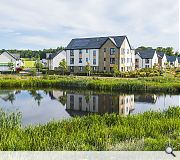 Homes are arrayed around landscape features features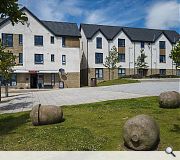 Similar principles are employed at Dykes of Gray
Back to November 2022