Mid-market rent sector takes off in Leith
November 8 2022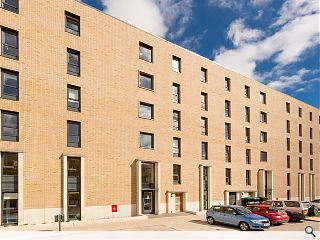 The burgeoning mid-market rent sector is gathering a fresh head of steam with the completion of a new apartment complex at the Ropeworks, Leith.
Situated off Leith Links Carron Wynd has been delivered by the Teague Group and Hart Builders to target those on modest household incomes of less than £45,443 per year.
Delivered with funding support from PfP Capital the homes form part of a wave of over a 1,000 such homes across Edinburgh and Glasgow.
William Kyle, MMR Fund director for PfP Capital said: "We're delighted to have delivered these high-quality homes to local areas through New Avenue Living, which goes some way to mitigating the shortage of affordable rental stock in key locations in Scotland. This shortage is exacerbated by a backdrop of steeply rising house prices and market rents, driven in part by a lack of new build homes in recent years. There remains a critical deficit of affordable housing, particularly for those who are unable to save for a large deposit, do not qualify for social housing or face long waits for housing, given high demand."
All homes target an EPC rating of B or above.
Back to November 2022